No matter what kind of travel you do, having the right shoes can make a big difference. Comfort is key, without sacrificing style. Lightweight and compact are also big pluses. You don't want half your suitcase to be taken up with shoes alone! Your shoes should also be appropriate for the type of travel you are doing. Whether you are headed for the beach, mountains, or city, read on to find the perfect travel shoe options for you! Scroll to the end for my best overall pick for any destination.

*This post includes one or more affiliate links. I earn a small commission (at no extra cost to you!) if you purchase a product or service through one of these links. Find out more here.*
Walk All Day

I'm a big walker even when I'm not traveling, but when I am on the road, I regularly walk 3-10 miles per day (one of my tricks to avoid travel weight gain…)! Even if you don't walk as much as I do, a lot of sightseeing activities involve standing and wandering around a sight for hours on end. Comfortable, supportive shoes are a must! That doesn't have to be standard sneakers/trainers, however. You can be on your feet all day with these kicks.
Technically flip-flops, these sandals also have soft heel and ankle straps to secure them to your foot better. The best part is that the footbeds are made from yoga mat material, so they are super comfortable and supportive! They also have standard flip-flop, strappy sandal, or full loafer/flat options for men and women in a variety of colors and patterns!
For more rugged, outdoorsy, and/or sporty travel activities, a pair of Keen sort sandals are perfect! They are comfy, easy to clean, and have odor-resistant footbeds. Great for everything from paddleboarding to hiking. With many styles for both men and women, you can opt for something less sporty and more versatile or even flip-flops orslip-ons.
Wool shoes are amazing because they are natural and breathable, plus adapt to the weather to keep you warm on cold days and cooler on warm days. Perfect for a variety of weather conditions throughout your trip. Allbirds are the most well-known wool sneaker and are super comfy. You can also get equally cozy but more budget-friendly styles from Urban Fox, Jambu, and Sanuk.
Dressier
Especially when traveling in cities and hitting the town, a fancier pair of shoes is always nice to have. These look good without sacrificing comfort.
Ballet flats are the perfect shoe to dress up or down. These Skechers ones have memory foam soles and stretch-knit uppers for comfort with slightly pointed toes and scalloped ankles for style 🙂
These knit and leather Dockers have the comfort of a sneaker with the class of an Oxford – perfect combo for travel and versatility!
For ladies who want to travel with a pair of heels, wedges are more comfortable and versatile while still giving you that dressy look. Skechers makes some cute and classy wedges you can wear all day. Or Croc's version is nice and lightweight!
Carry-On Only

These shoes are all super lightweight and/or pack basically flat – perfect for minimalists and carry-on only travelers! They may be small but they are mighty comfortable. Choose from a variety of styles to suit your fashion sense and travel needs.
Derby style, slingback, or mule, these shoes are classy and comfy. Versatile enough to wear with pants or skirts, dress up or down. The cool thing about these, though, is how super lightweight they are. Sturdy shoes with supportive memory foam footbeds that won't put your bag over the carry-on weight limit. Designed for flight attendants! Plus, some styles have punch holes in the leather for breathability. Socks optional 🙂
These active, barefoot, yoga and water shoes weigh practically nothing, pack totally flat, and can easily be bent or folded without damaging them. The best versatile shoes that won't take up extra room or weight in your suitcase. Multiple styles and colors for men and women!
Crocs are lighter than air and feel like walking on air – a perfect combo for travel. The standard Croc clogs aren't everyone's style cup of tea, but their unisex flip-flops, sandals, and ballet flats are nicer looking, easy to pack, and weigh next to nothing.
Beach/Water
For lounging on the beach, an easy on/off shoe that can get wet is the best option. Or if you'll be more active in the water and require traction, or want protection against rocks, shells, or other underwater hazards, opt for a pair you can wear while you swim.
Fitkicks are lightweight and fast-drying, designed to be water shoes. Keens will also dry fast and will give you better traction and stability for water sports. See above for all the details!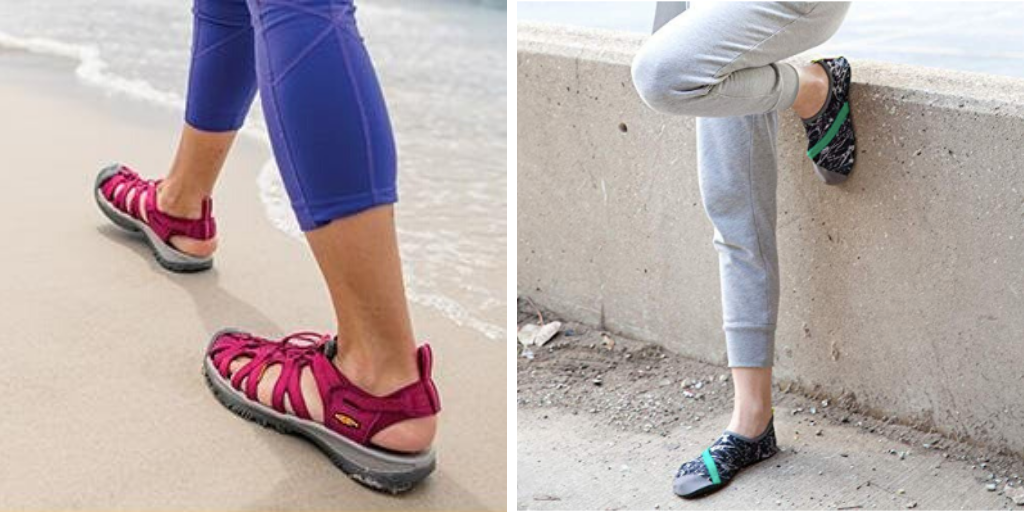 Havaiana flip-flops are slim, comfy, durable, and waterproof, perfect for beach travel. With tons of variety in color and pattern for both men and women, you're sure to find a pair you like. They even make some styles with heel straps, t-straps, and other embellishments to dress them up a bit.
Winter
Packing for winter travel inevitably involves bringing larger, bulkier items, though you can be a minimalist winter packer! I like to bring one pair of warm, waterproof, and comfortable boots like these.
These motorcycle-style boots look good and are comfortable. Waterproof and made with warm wool, they're great for any weather.
Sorels snow boots range from knee-high to ankle boots in a variety of styles. The gents' Chayenne IIs and ladies' Lace IIs are classic winter boots, while the 1964 mid-calves are a dressier version, and the knee-high Carly IIs give you more coverage. All are waterproof and warm!
These hiking boots are perfect for winter treks, with waterproof styles for both men and women.
Another brand that does a nice winter "climbing" boots in a variety of heights from Chelsea to riding. The riding boot strap details give these more of a classy cowgirl feel and less of the traditional snow boot look.
Pack One and Done!

If you want to bring only one pair of shoes to trek around sightseeing, go out for a hike, jump in the lake, dress up or down, and wear in 3-seasons of weather, a pair of Keen sport sandals will do it all! Opt for a neutral color to go with everything; black is easiest to dress up. Ladies can go for a more feminine style like the Bali to pair better with a skirt or for a night out.

I know wearing socks with sandals is a total tourist cliche and faux pas, but it does allow you to wear sandals in cooler weather without discomfort. If you wear matching short socks, they blend in pretty well, making the sandals look like sneakers. Nylon socks are almost invisible and do add enough warmth for slightly chilly days, or try some lacy socks with ballet flats to keep it pretty.
Waterproof socks make cold, rainy days in sandals totally doable. I even wore my Keen whisper sport sandals with waterproof socks hiking in the snow (see pic above!) and my feet stayed warm and dry! They're the most versatile option for a multitude of travel needs.
Related Posts

Want more from The Global Gadabout? Sign up for the newsletter and get access to exclusive printable freebies!
Pin this post for later!