Being an efficient packer is not only about fitting tons of stuff into a small space. It's also about using that space wisely. I'm all about packing carry-on only! Check out my other posts on minimalist packing and packing as lightweight as possible for all the details on those aspects. In this post, I'll give you my five top tips for arranging your suitcase most efficiently and usefully.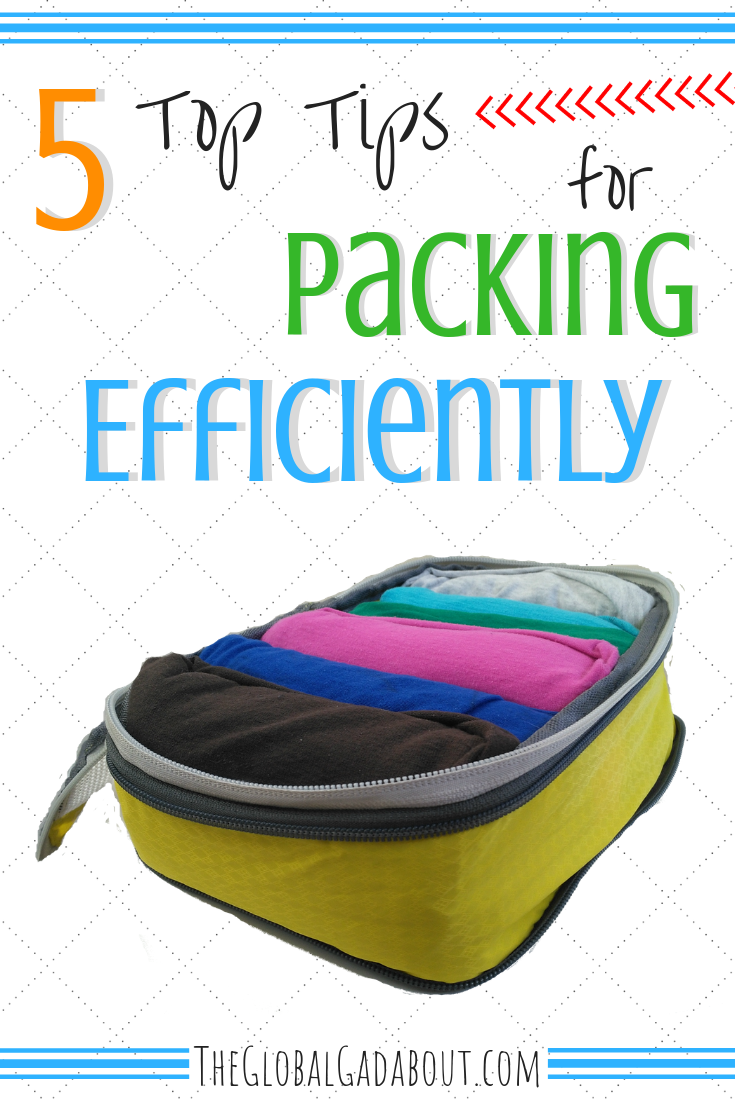 1. Roll Clothes, But Not to a Fault
Roll your clothes. I'm sure you've seen this advice before. It's ubiquitous for a reason! Rolled clothes take up less space, are easier to find in your bag, and keep their shape better. But this does not necessarily apply to all clothes. I find that some heavier clothes, such as jeans and sweatshirts, just become too bulky and unwieldy when you roll them. I recommend rolling your shirts, skirts, and lightweight pants/leggings and folding your heavier pants and larger tops (if you bring any). Underwear could go either way (see tip number 5…).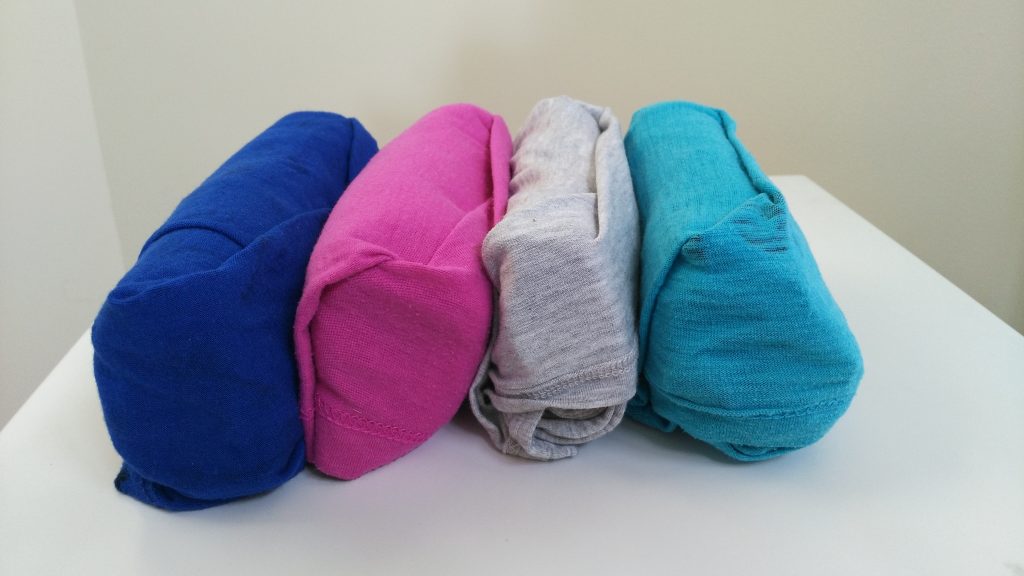 One cool method for rolling clothes to help with time efficiency and organization is to roll your outfits together. Take the largest item of an outfit (normally the pants/leggings/skirt), layer up the smaller pieces (including socks and underwear) on top, and roll them all up together. Instead of rummaging around in your bag when you're getting dressed each morning for all the different items you want to wear, just grab one roll and your whole outfit is right there ready to go!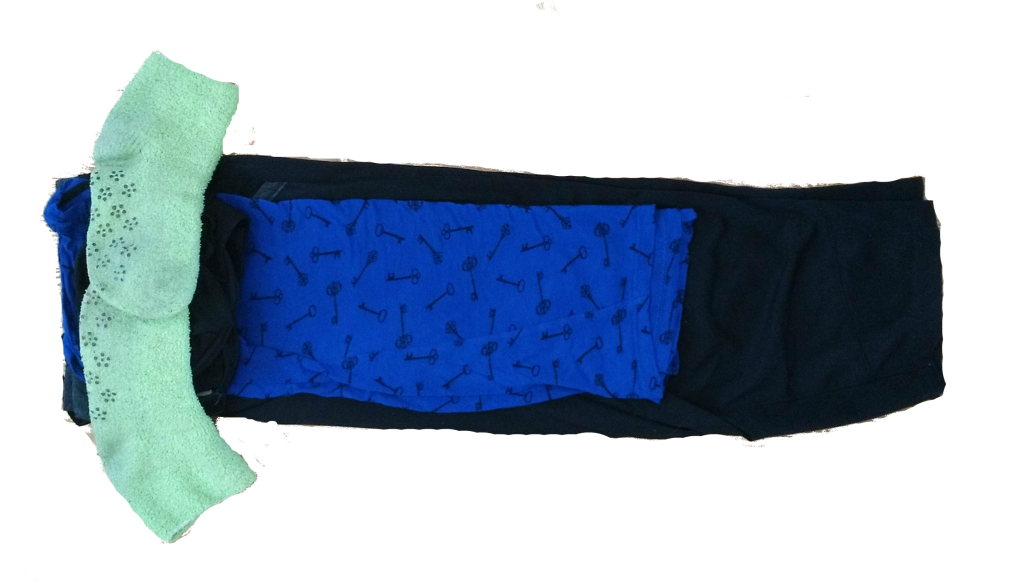 Sign up for my newsletter to get my free instructional infographic on how to ranger roll your clothes so they stay rolled and even how to pack outfit rolls inside socks! Plus, you'll have access to my Ultimate 3-Season Carry-On Bag Packing List.

2. Use Compression Bags
Packing cubes are a tool often recommended for organized packing, which they are totally great for. But compression packing cubes are where it's at for packing efficiency.
Compression packing cubes differ from normal ones in that they not only contain your clothes but have a secondary zipper to squash them so they fit in a smaller space. Compression packing (which you can achieve for less with Ziploc bags!) removes all the air and lets you pack more in less space. And you can still roll your clothes inside the compression bags!
3. Pack One Tall Layer, Not Multiple Shorter Ones
This tip is helpful for efficiency in finding your clothes when you need them on your travels. You may have heard of the very popular books The Life-Changing Magic of Tidying Up and Spark Joy by Marie Kondo. In these books, she outlines a method for folding your clothes into even rectangles where you can see each one in the drawer. This idea is also very effective in your suitcase!
Rolling your clothes, as in tip one, automatically gives them some height. You can also squish the rolls to a more oval shape or follow the KonMari folding method so that your clothes become tall and thin rather than the flat and wide profile of normal folding. Then when you pack them one next to the other, you create a row where you can see every item easily.

Check out the pic above. On the left, while the suitcase is neatly packed, you can only see three items. The right suitcase it also neatly packed, but you can see every piece of clothing in there. This saves you burrowing around searching for the article you want to wear and disrupting all your previous careful packing. You can wear something and replace it very easily.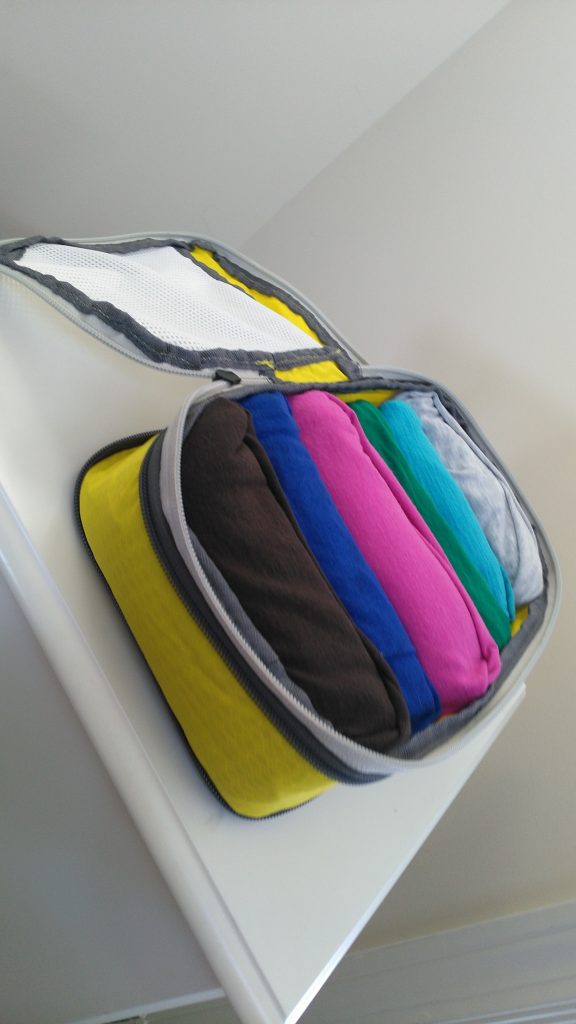 You can totally do this within compression packing cubes, too! I recommend ones where the top zips off completely on 3 sides, rather than just 2 sides, so you can see everything inside with one glance.
4. Pack First Use Items on Top
This one may sound like a no-brainer but sometimes the thought can get lost in your other efficient packing methods. To avoid having to open up your bag all the way, unzip packing cubes in the airport, or disturb all your bag organization searching for something you need, think about which items you will use first (be it on the plane/train/bus, in the car, or the first night in your destination) and pack those in an outside pocket or near the zipper opening so that they are easily accessible. This will save you time and hassle!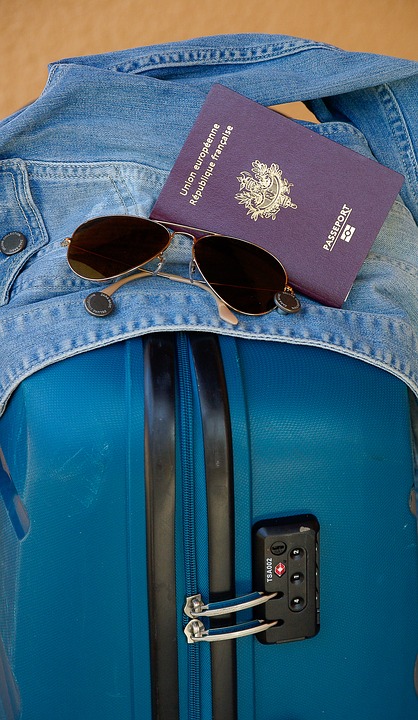 5. Use All Available Space
Again, this one sounds like common sense. But how to achieve it can be tricky. Start by packing smaller, thinner items in the depressions created in the bottom of rolling suitcases by the handle rods. This effectively levels out the bottom of your suitcase and maximizes packing efficiency. This is a great spot for items like flip flops and books and things you won't use every day like any emergency supplies or ladies sanitary items.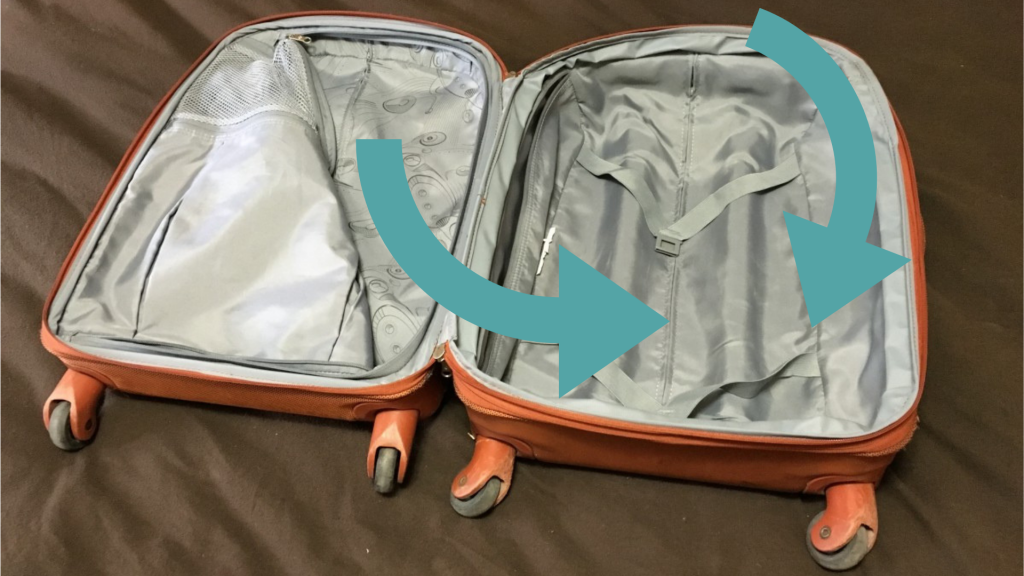 Another great way to be sure to use all available space is to hold back small items, such as underwear and socks, until the end and stuff them into all the little gaps. If you have packed an extra pair of shoes, stuff a pair or two of socks inside the shoes and take advantage of that otherwise wasted space. Ladies, especially if your bra cups are more rigid, stuff your underwear into the cup of your bra to utilize that space effectively. Bonus – it helps your bra hold its shape!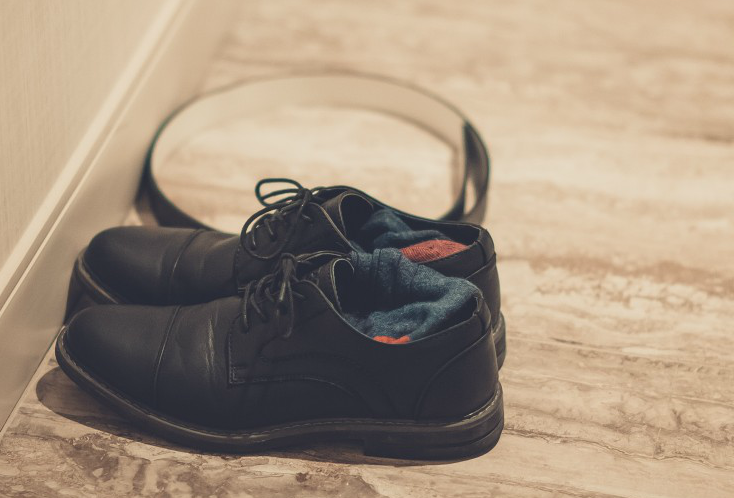 I sang the praises of compression bags in number two but there is one quibble I have with them. When compressed, the bag often develops a sort of mound in the middle and is thinner around the outside, creating a small amount of wasted space. It's not enough to nullify the benefits of compression packing, for sure! But this is another great place to utilize every square inch by stuffing small items around the cubes to level them out in your bag.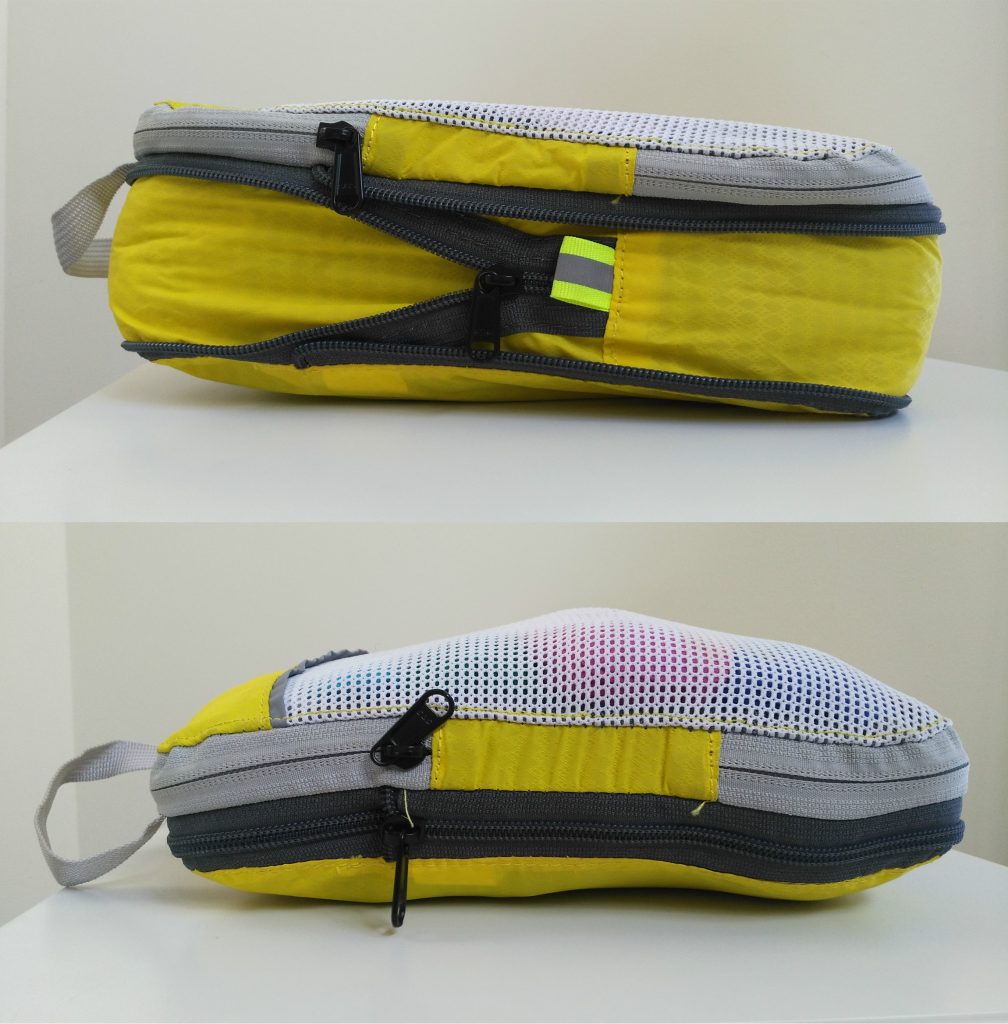 Think about the pockets in your bag too. These can be great for organizing smaller items and gear. Separate these things into categories, such as snacks, electronics, toiletries, travel time necessities, and place each category into an appropriately-sized pocket in your bag. By filling your pockets strategically completely, you won't waste any space there either.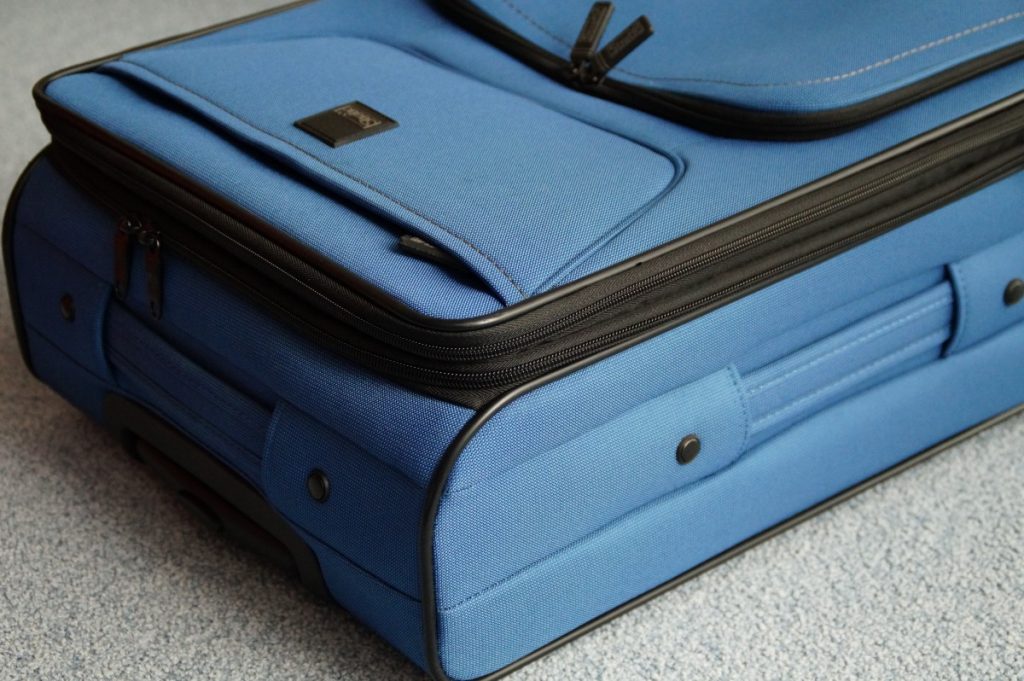 Use all of these tips together or pick and choose what works for you to get the most out of your suitcase and become a packing pro!
*This post includes one or more affiliate links. I earn a small commission (at no extra cost to you!) if you purchase a product or service through one of these links. Find out more here.*
Related Posts:
Want more from The Global Gadabout? Sign up for the newsletter and like the Facebook page!
Pin this post for later!