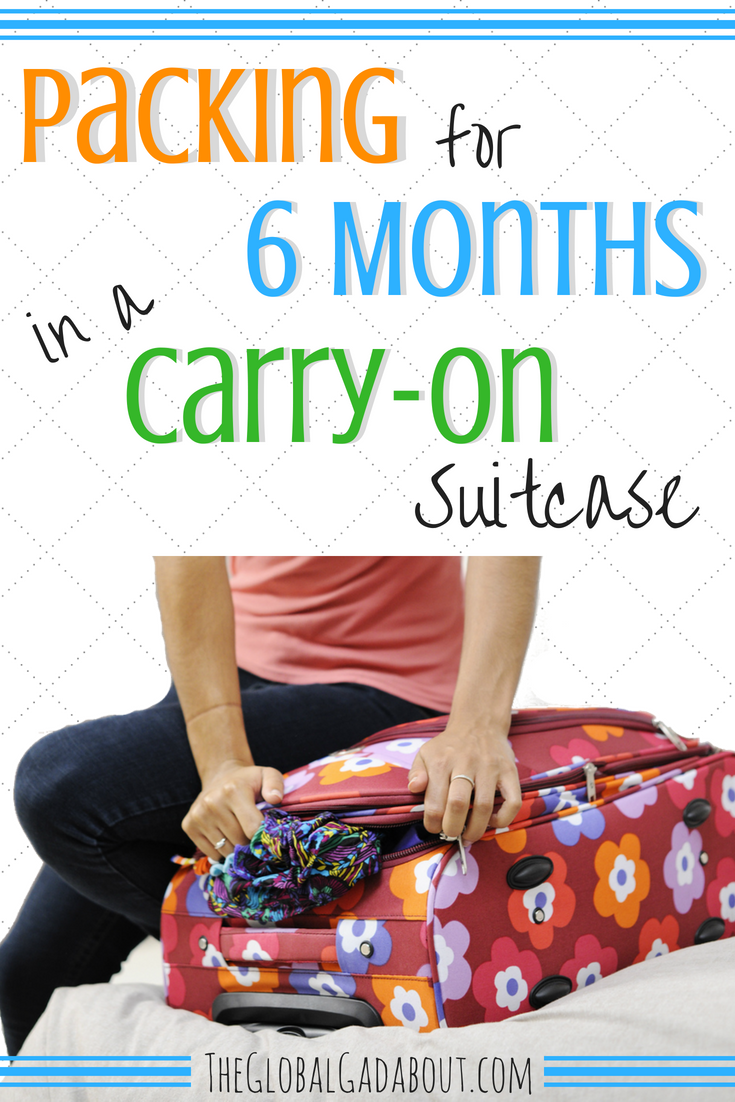 I know it can seem like it's nearly impossible to pack for 6 days in a carry-on suitcase, let alone 6 months, but I'm here to tell you it can be done! In the past 10 years, I've traveled regularly to dozens of countries around the world, often for months on end. The handful of times I have checked a bag in that time were when I was carrying heavy gifts and flying airlines with very strict and small carry-on weight limits. Had I been more strategic with my planning and packing and taken advantage of certain travel perks along the way, I'm confident I could have avoided those few instances altogether.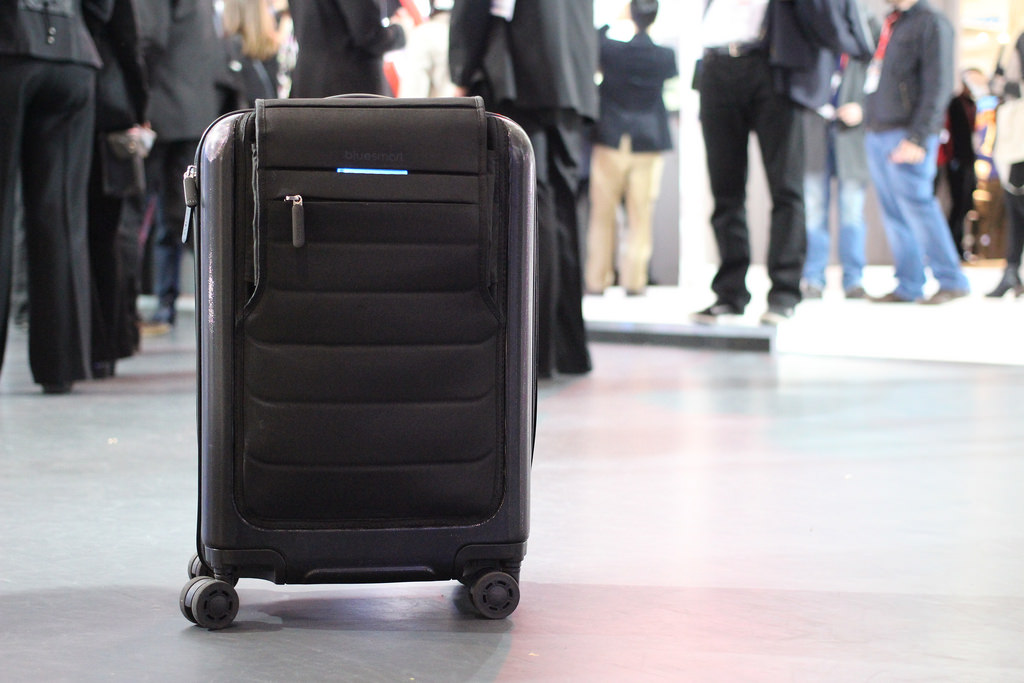 I hate checking luggage. Not only does my inner budget elf cringe at the thought of paying extra to check a bag (now the norm for most airlines) but if your bag stays with you throughout the flight, the airline can't lose it (or accidentally misdirect it…). It's easier to handle hauling around a carry-on size bag, rather than a huge, heavy, unwieldy behemoth of a suitcase. And, actually, we don't really need all of those things we feel we want to bring. The benefits of only packing a carry-on are plentiful and there are plentiful strategies you can combine to make packing for up to 6 months in a carry-on suitcase an easy reality.
Standard Carry-On Regulations
The rules and regulations regarding carry-on luggage vary from airline to airline. It might be my imagination, but with the rise of budget airlines and the trend of paying separately for checked bags, I also feel like they've gotten more strict in recent years. However, the following is a general rule of thumb for carry-on bag guidelines that will pass muster with most airlines:
One 9 in x 14 in x 22 in (22 cm x 35 cm x 56 cm) bag, including handles and wheels, with a maximum weight as low as 22 lbs (10kg).
One small personal item such as a purse or shoulder bag.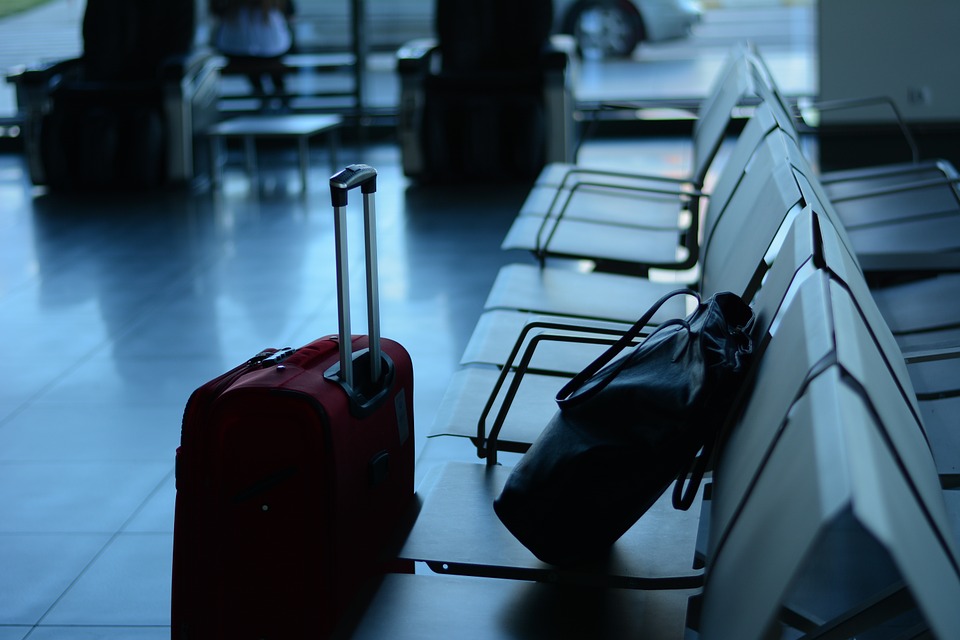 Check out my post on the 5 Best Multi-Functional & Inexpensive Travel Bags for some good options in luggage style.
Chanel Coco Chanel
Fashion designer Coco Chanel famously gave the following advice in regards to one's wardrobe: "Before you leave the house, look in the mirror and take at least one thing off." She was probably talking about that third bracelet or broach, but the sentiment is equally practical when talking about packing for long-term travel.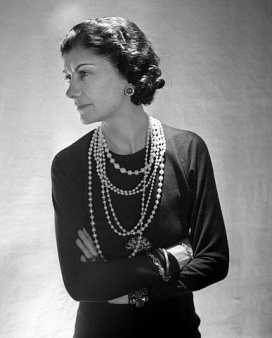 When I start to pack for a trip, I always look through my clothes, shoes, accessories, toiletries, entertainment gadgets, etc, pull out everything I think may be useful or fun to have on my trip and lay it out on my bed or kitchen table.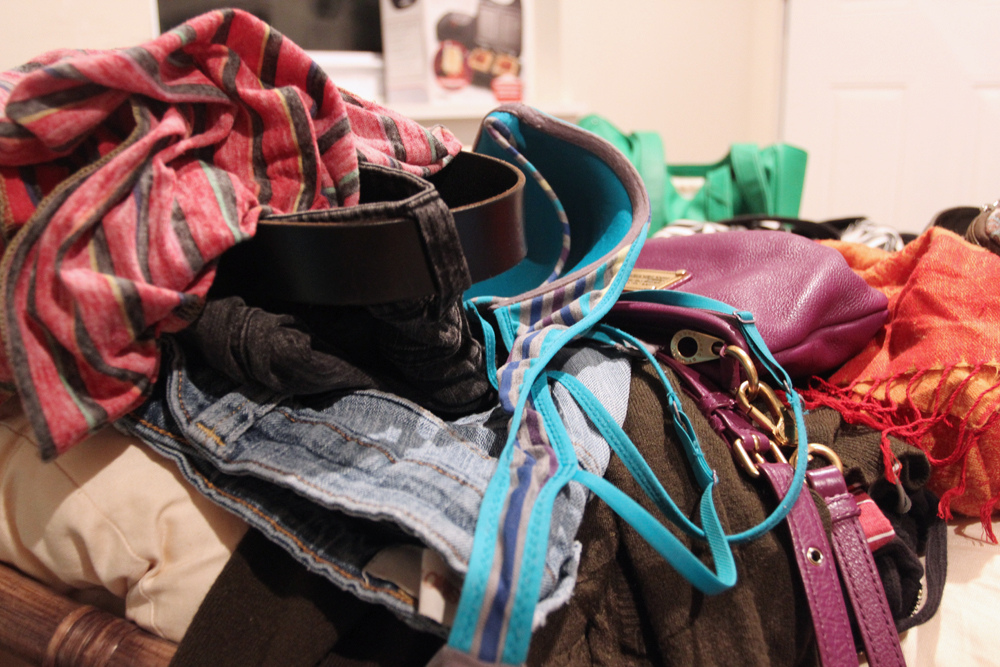 I always end up with more than double what would fit into a standard carry-on suitcase. This is where I apply Coco's rule. I split up items by category and then eliminate at least one item from each category. Yes, I love all three pairs of those pants and generally wear them often, but do I really need three pairs of pants to spend the summer in South America? No. I tend to run hot, so one pair might even be more than I would actually wear!
When attempting to pack in a carry-on bag, take extra heed of the "at least" part of Ms. Chanel's quote and take out several items across your packing categories that only add to the chaos of your suitcase. By pruning my packing this way, I usually cut my original piles almost in half.
Learn to Love Layers
Unless you are chasing the sun, traveling for 6 months means you are likely to encounter some temperature variation. In our everyday lives, most people probably have different wardrobe pieces for different types of weather.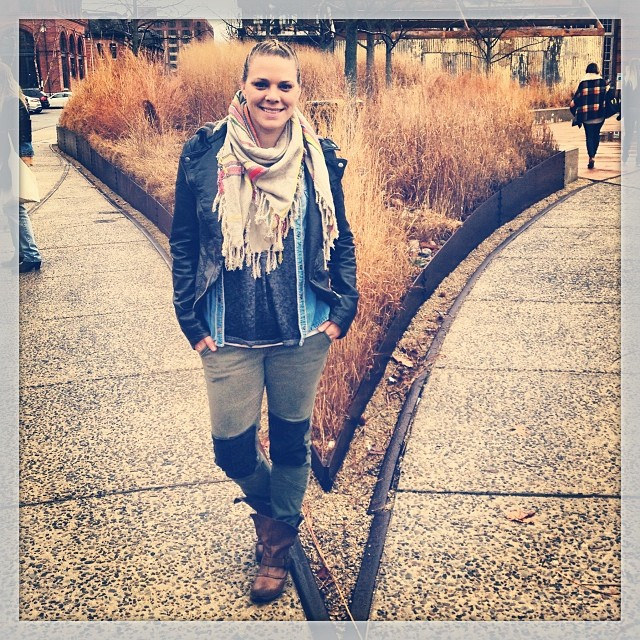 When you are attempting to pack in a carry-on suitcase, however, it is difficult to fit bulky sweaters (no matter how cozy) and multiple pairs of jeans in with those warm weather shorts and t-shirts. The solution to avoid bringing more clothes with you is to wear more of the clothes you have when it gets cold. Throw on a pair of tights or leggings under those shorts instead of bringing an extra pair of pants. They take up far less space and weight in your bag and are an easy way to make you warm weather outfits work for colder days.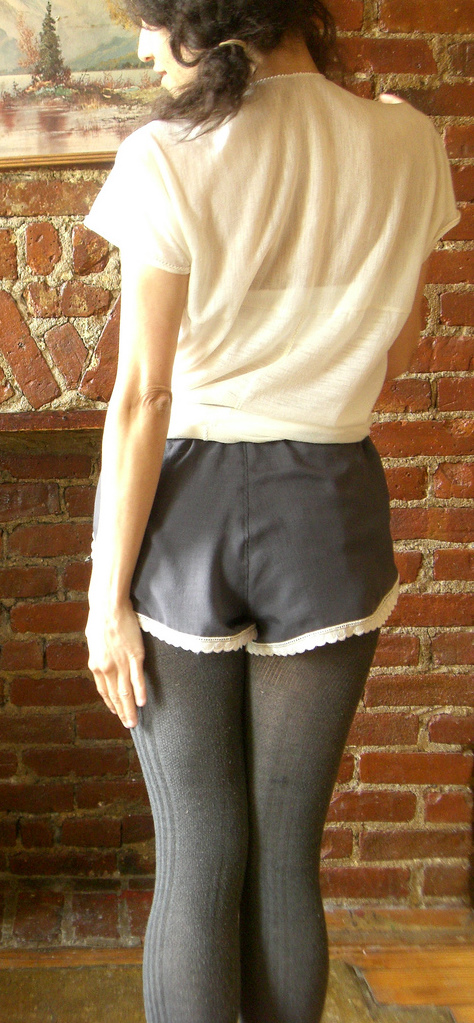 Instead of taking a thick sweater, take a lightweight one or a fleece, and a long-sleeved shirt. These take up less space, you can wear them individually on cooler days, and if it gets really cold wear both of them over a t-shirt. Layering eliminates the need to bring those items that seem to fill your suitcase by themselves and makes your travel wardrobe more versatile.
Color Coordinate
Color coordinating goes hand in hand with layering. If you are going to wear multiple items of clothing on cooler days, you probably would prefer if they didn't clash horribly! This is the next step I take when packing. I look at those piles of potential clothes I whittled down thanks to Coco and figure out which ones go well together.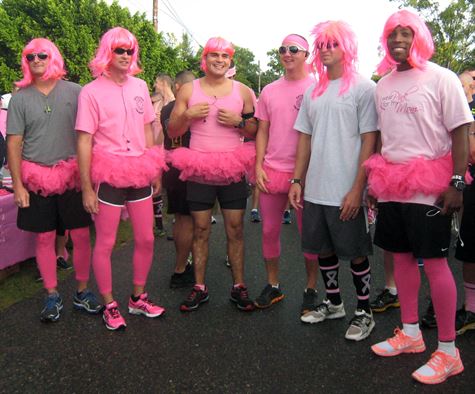 I tend to wear a lot of blues, greens, and greys, so it doesn't make a lot of sense to bring that one orange t-shirt, even if it is really fun and comfortable. If it doesn't go with anything else I'm bringing, I'll never end up wearing it and it's just filler in my bag.
The same thing is true for items that only go with one other thing. If you have to bring a specific piece to pair with it, it doesn't make sense. Even if I wear them all the time at home, I find it's that one piece that doesn't coordinate with the rest that I unpack still folded and unworn at the end of my trip.
Multi-Purpose is the Magic Word
Besides things that are easily layered or that go well together, things that have multiple uses are great for keeping your suitcase small on long trips. This applies to both clothing and non-clothing items. I happen to love Dr. Bronner's Castile Soap. It is an all natural, biodegradable, concentrated liquid that can be used as soap, shampoo, body wash, laundry detergent, dish soap, shaving cream, and even toothpaste! (Check out my posts on 5 Things I Never Travel Without or 5 Top Toiletries for Carry-On Travel for more about Dr. Bronner's)
This one thing, in concentrated form no less, can replace all of those items in my luggage. I bring one lightweight, breathable raincoat with me that is great for rain and wind, as an extra layer on those in-between days, and has plenty of room to layer under if the temperature really drops. A pashmina (or other large, scarfy item) is great to wrap around your neck to make that raincoat warmer or wrap around your shoulders as the sun goes down. You can even wrap one around your hips as a skirt or knot/pin one into a top in a pinch.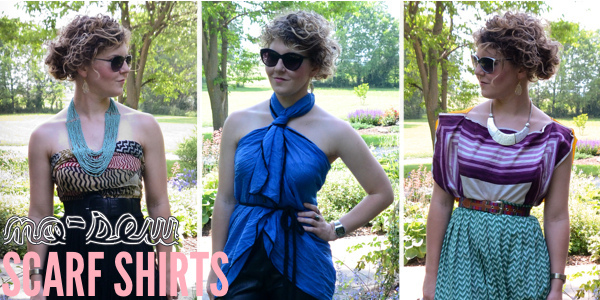 It can also make a great blanket for sleeping on flights, trains, or buses. Tie it to a couple of sticks for an instant beach shade or tie the ends together bindle-style when you need an extra bag. The versatility of a pashmina or scarf is a big reason why it is also one of the 5 Things I Never Travel Without! For more suggestions of multi-purpose garments, check out my post on 5 Most Versatile Clothes for Travel.
Cultivate the Collapsible
The smaller you can make something, the better it is in my book! For traveling, a collapsible water bottle is always on my list. Easy to stuff in your suitcase or purse and fill up in a water fountain or bathroom when you need it. Check out my post on 5 Features to Look For in a Collapsible Water Bottle for more on that.
Those little folding hair brushes with the mirror inside are practical and great space savers, so are folding or 2-part travel toothbrushes. Shoes that can flatten out are much easier to pack. Lightweight shopping bags that fold into themselves are great for when you're out and about for the day and need a bit of extra carry capacity. Anything that takes up less space when you're not using it is more likely to make it onto my final packing list.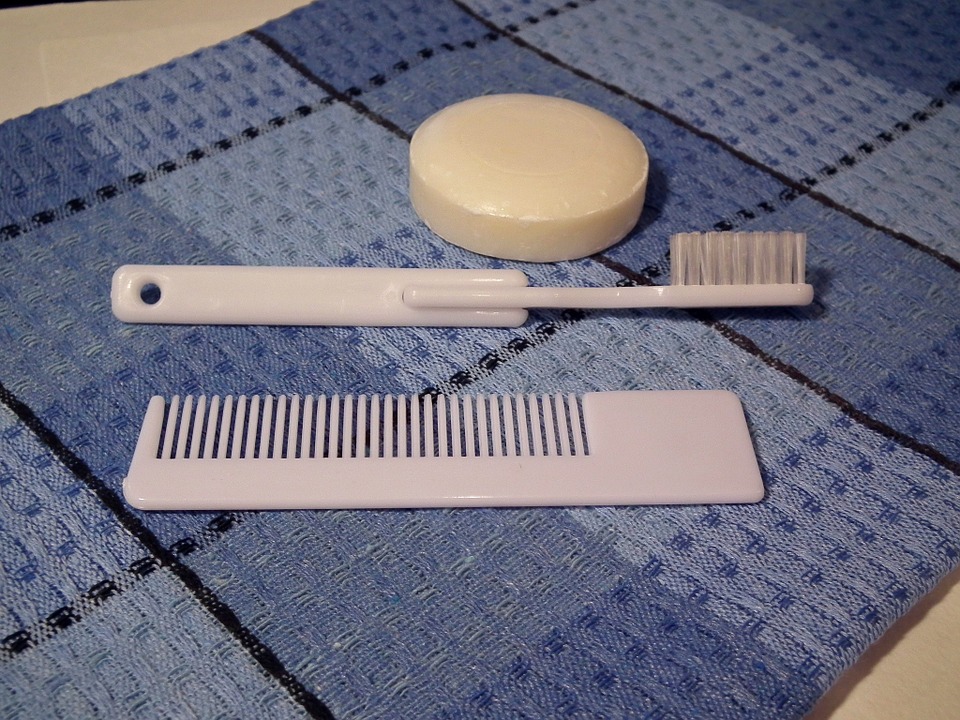 Space Saving Packing Tips
Speaking of space saving and packing, there are many ways to fit way more into your bag than you think is possible! Many times a friend or family member will look at my pile of things to pack and the bag I intend to pack them in and laugh at the impossibility of this task. I smile right back. I know a few tricks to make them fit!
Roll clothing. You've probably seen this one many places before, but that's because it actually works! When you roll clothing, you not only compact that one piece more than folding it, but you create a shape that can more easily fill all the little spaces in your suitcase to take advantage of every last centimeter!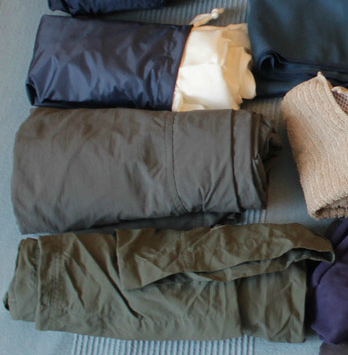 Pack small item inside larger items. If the shoes you decide to bring do not fold flat easily, stuff them full of socks, underwear, belts, or other small things. If you don't have a collapsible water bottle, stuff a t-shirt into your regular one until you need it. Otherwise, the inside of your hollow items is just wasted space!
Straps & compression. Most suitcases come with some elastic straps to hold the contents in place. These can help hold them down, too, so you can close the zipper. I've also used a great gadget that is basically a folding shelving unit.  Three rigid shelves are held together with lightweight fabric. You pack on the shelves, then pull tight the attached strap so that the shelves compress the clothes packed in them. Then when you get to your destination, just release the strap, hang up the shelving unit and you are instantly unpacked!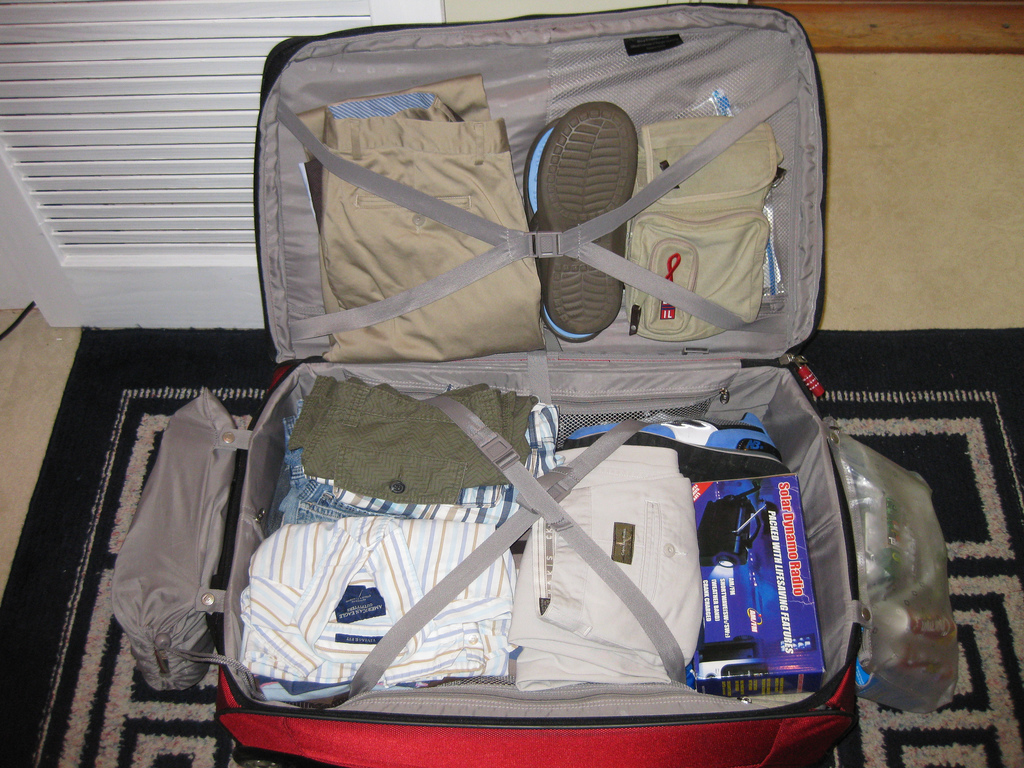 Packing cubes are a variation on straps. They are basically small, lightweight, zippered bags of various sizes. These are great for organizing your things and keeping clean and dirty clothes separate. If they fit perfectly into your suitcase, they also help you fit more things in by keeping them compressed.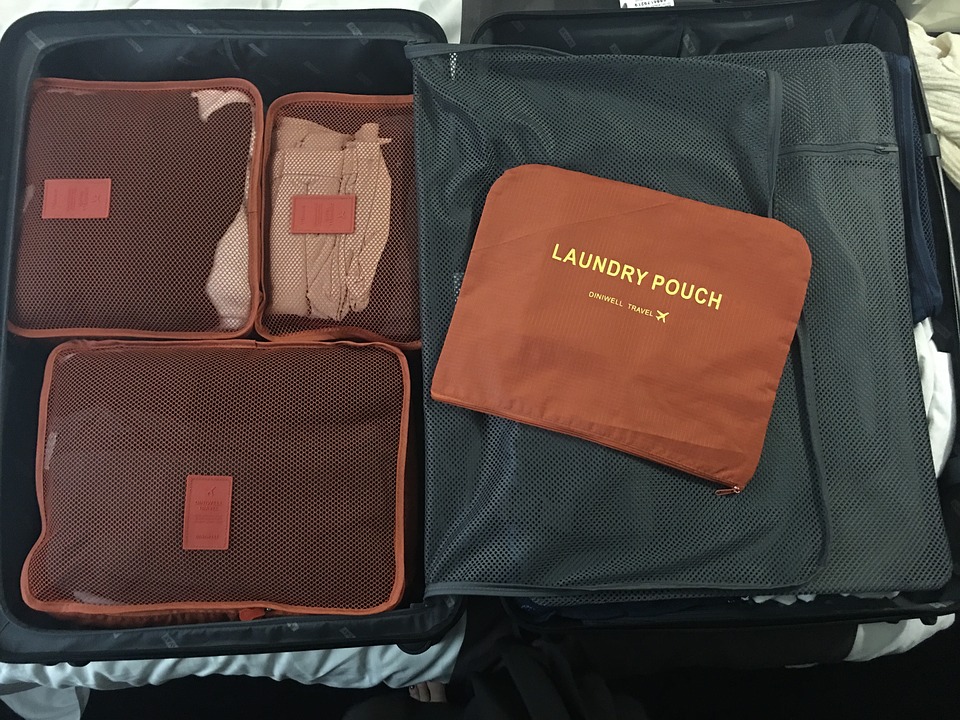 Vacuum bags (or even ziplock bags!). You can really get all the air out of your suitcase by putting your soft items (clothes, etc) into vacuum bags and pressing all the air out. You can buy ones specifically designed to allow air out but not back in, or just leave a tiny bit of the zip on a ziplock bag open, press or even sit on it to get as much air as possible out, then close it before you relieve the pressure. (This general idea works when trying to close your suitcase as well!)
Utilize the space outside your bag. This doesn't work when you are bringing your bag on an airplane, but for transporting it over land, not everything needs to fit inside your bag! Clip your water bottle on the handle with a carabiner, tie your jacket to the handle, or strap your shoes to the sides of your bag. A bag bungee is great for this purpose!
Sharing, Freebies, & Paying It Forward
The general idea of sharing and freebies is that you don't have to bring everything you might possibly need with you. If you are traveling with someone else, can you share some toiletries like shampoo or toothpaste? If you are staying in hotels, you often get these items free in your room, and at hostels or Airbnb rooms many people leave them behind for their fellow travelers to use, so use them! Take advantage of using blow dryers or towels at your accommodation instead of trying to fit huge items like that in your carry-on. If you are staying in one place for a while, don't bother packing toiletries, just buy them when you arrive.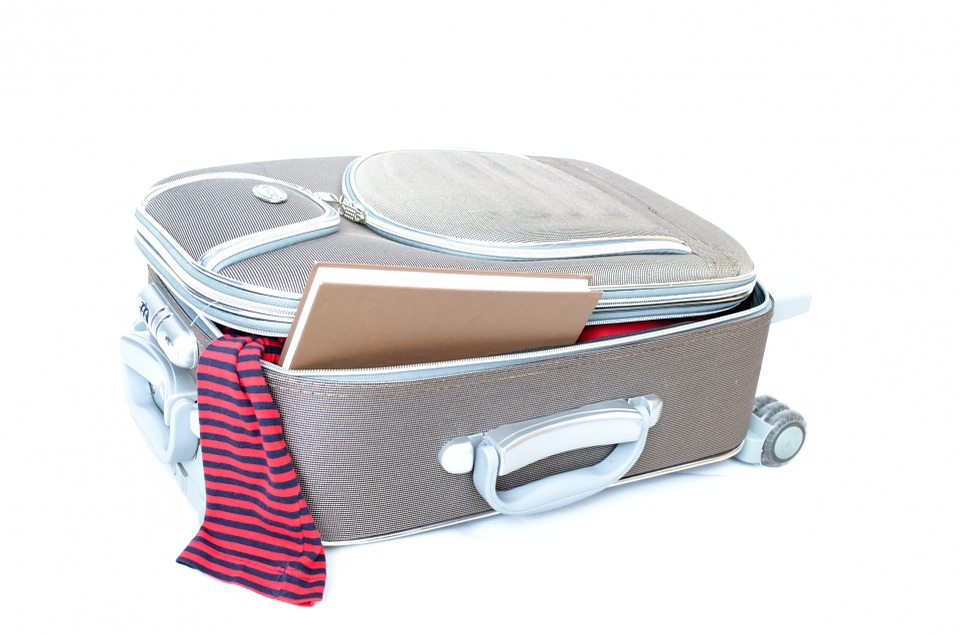 Most hostels have take-one-leave-one bookshelves. This is great if you're a reader – pick up a new book (for free!) and leave behind the one you've already finished. You only ever need to carry one book but can read several throughout your trip. This also feeds into the idea of paying it forward. If you've finished using something that is still perfectly good (like a book) or are headed home and still have half a bottle of that shampoo you bought when you got there, leave it at a hostel for other travelers. It lightens your load, lets it be used instead of thrown out and makes someone else happy they don't have to buy it for themselves.
The Global Gadabout's Ultimate 3-Season Carry-On Bag Packing List
These are all general tips for packing for six months in a carry-on bag. If you are looking for more specific suggestions, sign up for The Global Gadabout Newsletter to receive my Ultimate 3-Season Carry-on Bag Packing List via email. This is a comprehensive checklist of everything I suggest packing when traveling long-term and a few pro tips for those strict airline luggage requirements. Print it out and use it when packing for your next trip!

You can also check out my post on 5 Ways to Avoid Paying Baggage Fees for more details on lightening your luggage specifically for air travel. Armed with all this information, try out what works for you, pack up that little rolling bag, and get out there and explore the world long-term!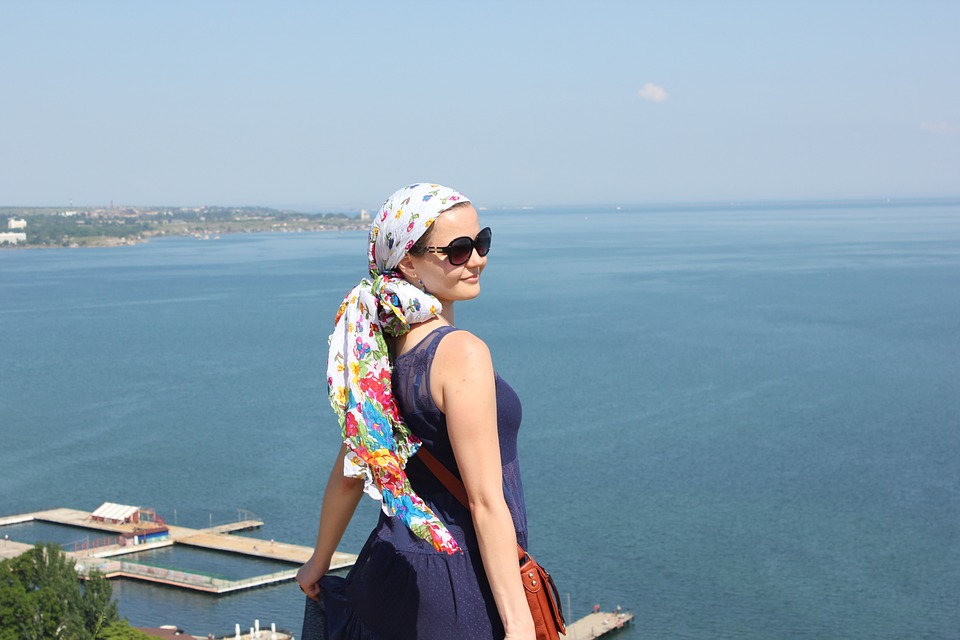 *This post includes one or more affiliate links. I earn a small commission (at no extra cost to you!) if you purchase a product or service through one of these links. Find out more here.*
Related Posts:
Want more from The Global Gadabout? Sign up for the newsletter and like the Facebook page!
Pin this post for later!