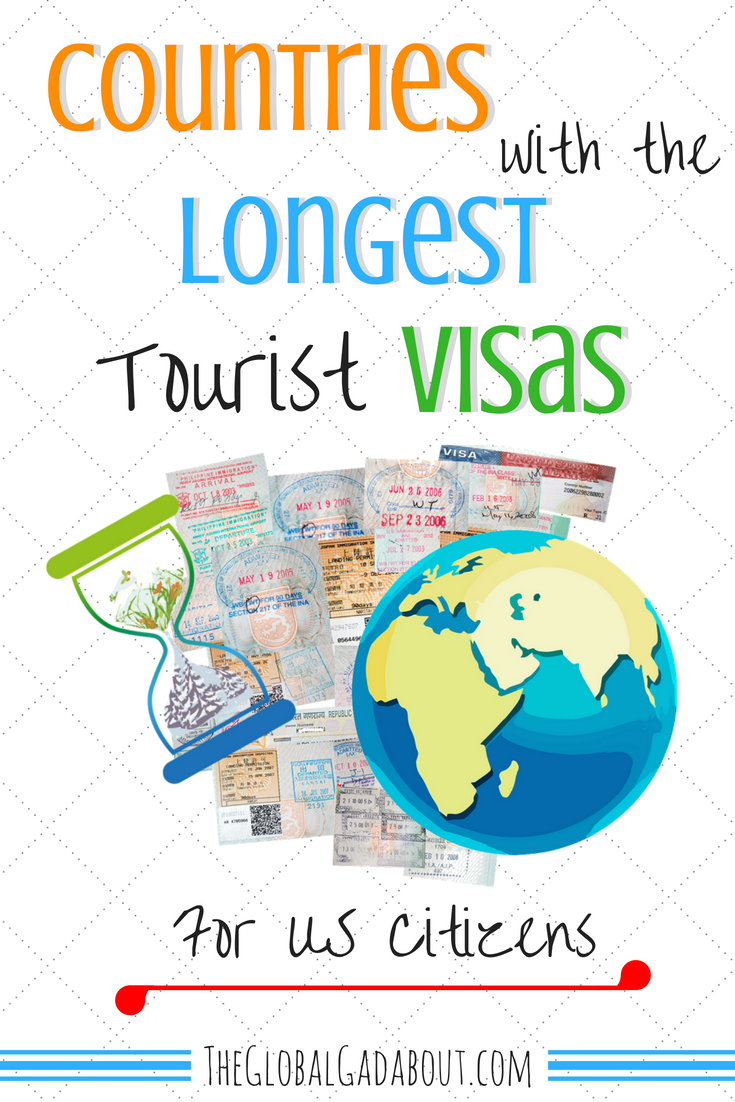 Americans are pretty lucky when it comes to travel visas around the world. We are allowed to visit 186 countries and territories without a visa or with a visa available on arrival. That makes the US passport 4th in the world in terms of travel freedom! I've been lucky enough to visit over 65 countries on all 7 continents (and counting!) – the majority of them visa-free. The more I travel, the longer my trips tend to get. As a writer, I can work anywhere with an internet connection and so join the growing ranks of digital nomads traveling the globe for long periods or even indefinitely.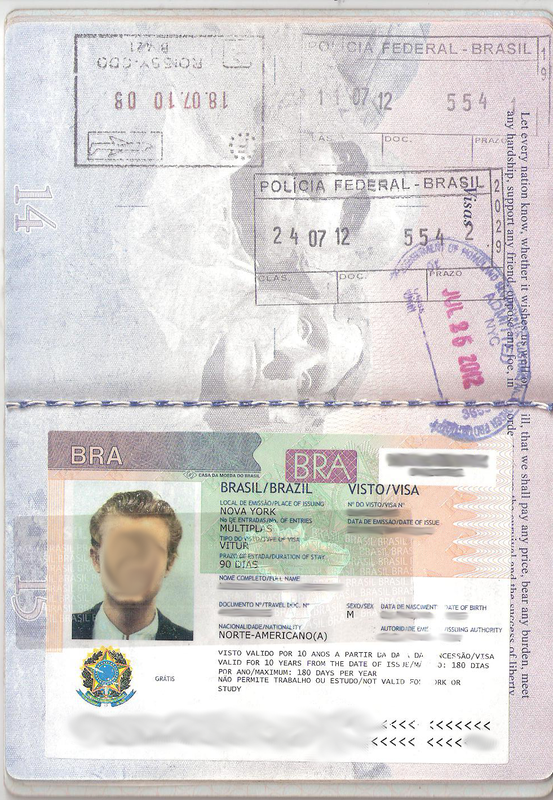 The most common length of stay granted with tourist visas (whether technically visa-free or available on arrival) is 90 days. That's plenty for your average tourist but not that much to a long-term traveler. Places like the Schengen Area in Europe combine multiple countries in the same 90 days, which is even more limiting. For long-term travelers, those looking to basically live abroad, retire abroad, even work abroad (digitally or otherwise), knowing where US citizens are allowed to stay the longest can be very important! This post will cover the longest allowed international stays, tourist visas, and some additional requirements.
Passport Requirements
Even countries that do not require a travel visa often do have specific rules about your passport. The best practice to eliminate issues with your passport is to ensure:
Validity for 6 months after your planned return

At least 2 blank pages
Quite a few countries only require your passport to be valid 90 days after your planned return but some are up to half a year. So I recommend 6 months to be absolutely sure you cover your bases.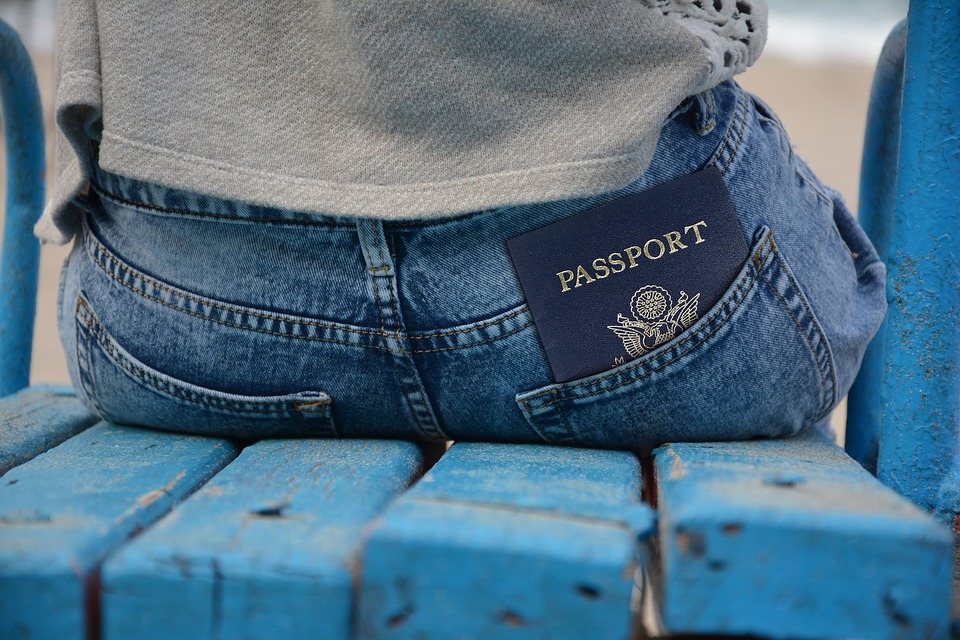 When I traveled to Antarctica, via Argentina, my passport was valid for only 92 days after my return flight, just barely making the requirements! But the trip was booked only 3 weeks before I left (I know, who goes last minute to Antarctica? Me! :-P) so I didn't have time to renew beforehand, plus I already had stamps and visas from 6 continents in that passport, and I really wanted all 7 in the same one! That was the only time I've traveled with less than 6 months left on my passport.
US Territories – Don't Even Need a Passport!
Beyond its 50 states, the US also has a number of territories. American citizens are allowed to travel to these, even live and work, indefinitely. It's basically like traveling to another state.
American Samoa (a return/onward flight is required)
Guam
Mariana Islands
Puerto Rico
US Virgin Islands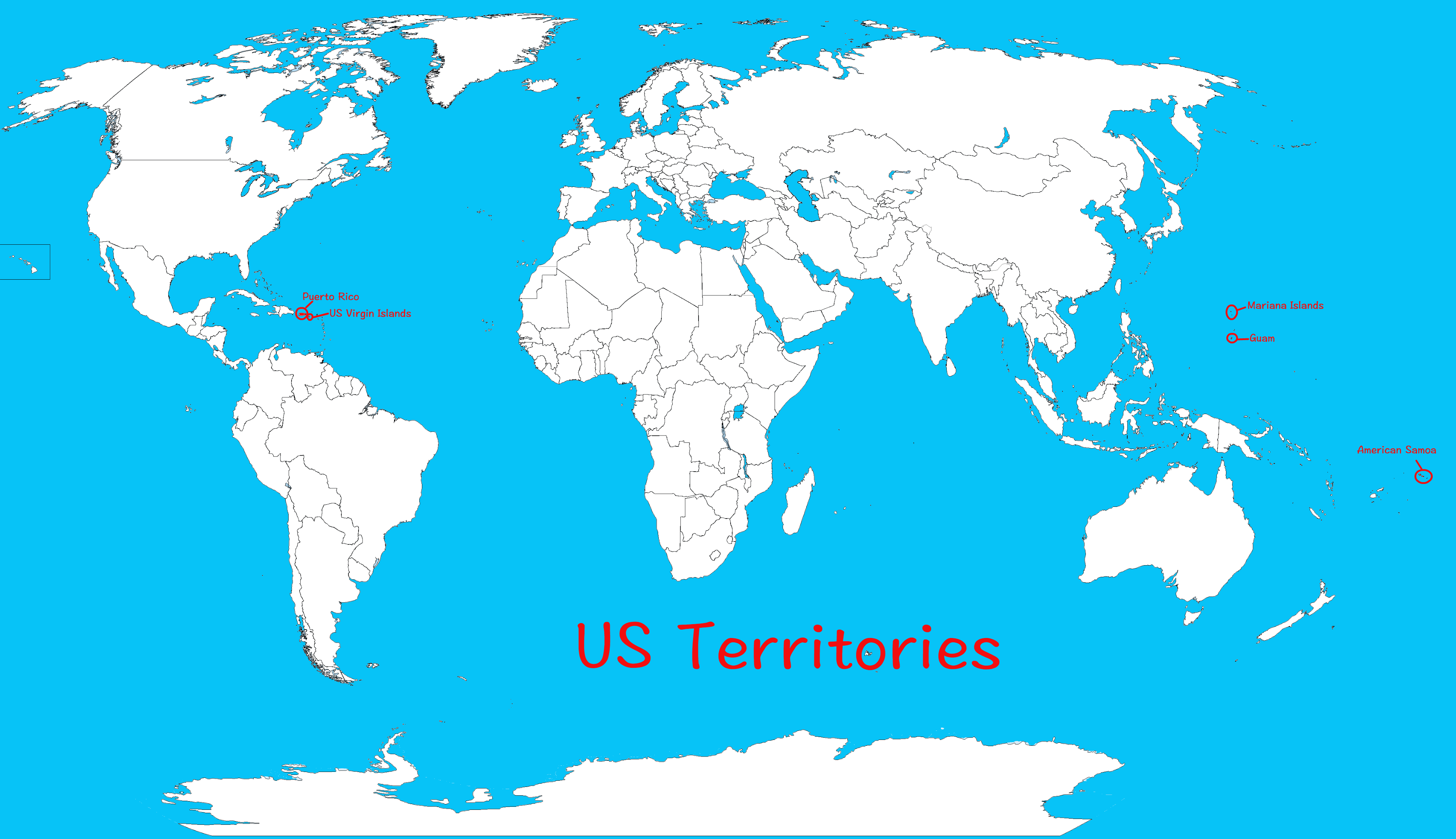 No Visa Required
Length of Stay: Indefinite
Equatorial Guinea
Marshall Islands*
Micronesia*
Svalbard**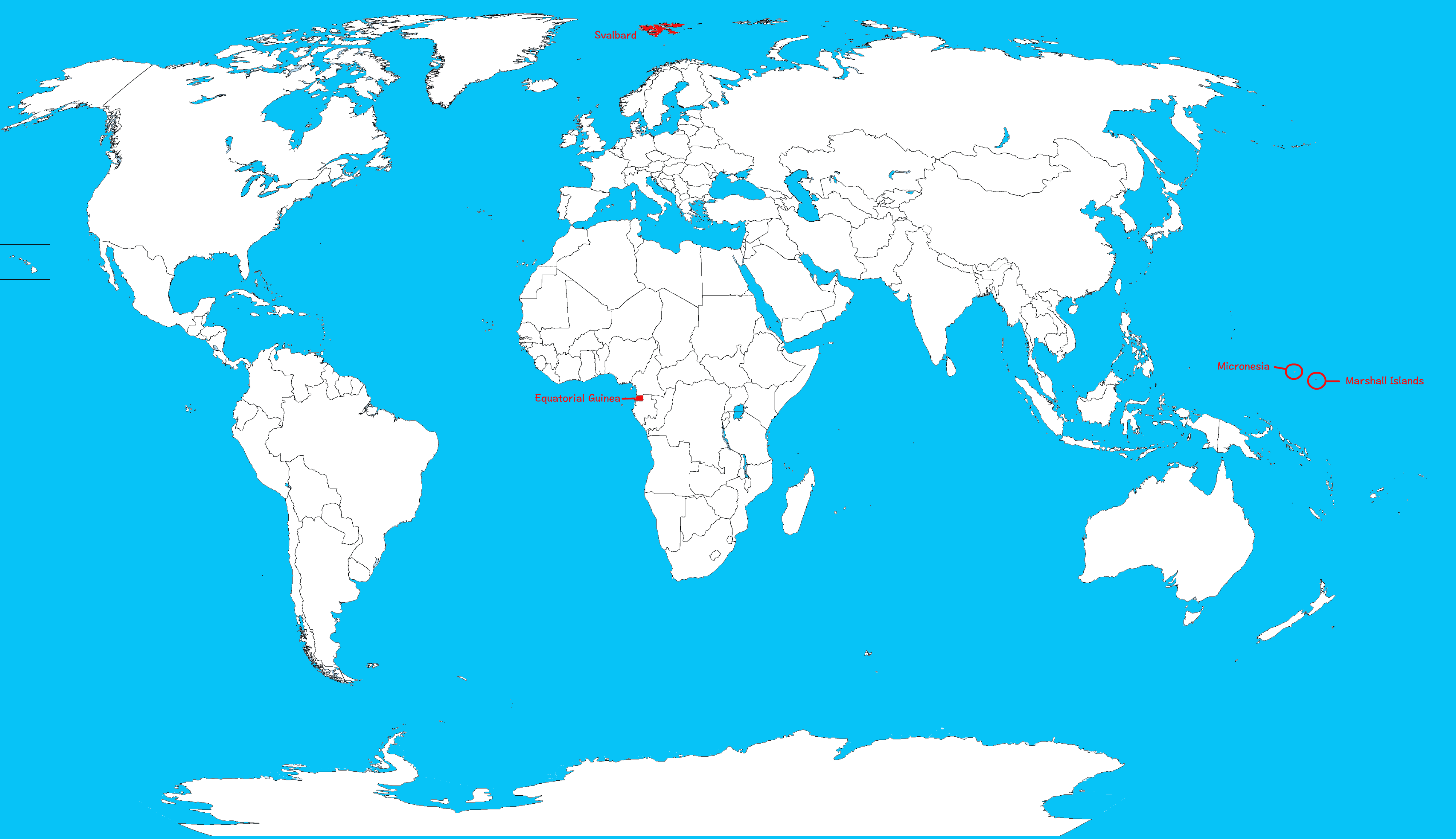 Length of Stay: 1 Year
Albania
Georgia (must have health insurance)
Palau*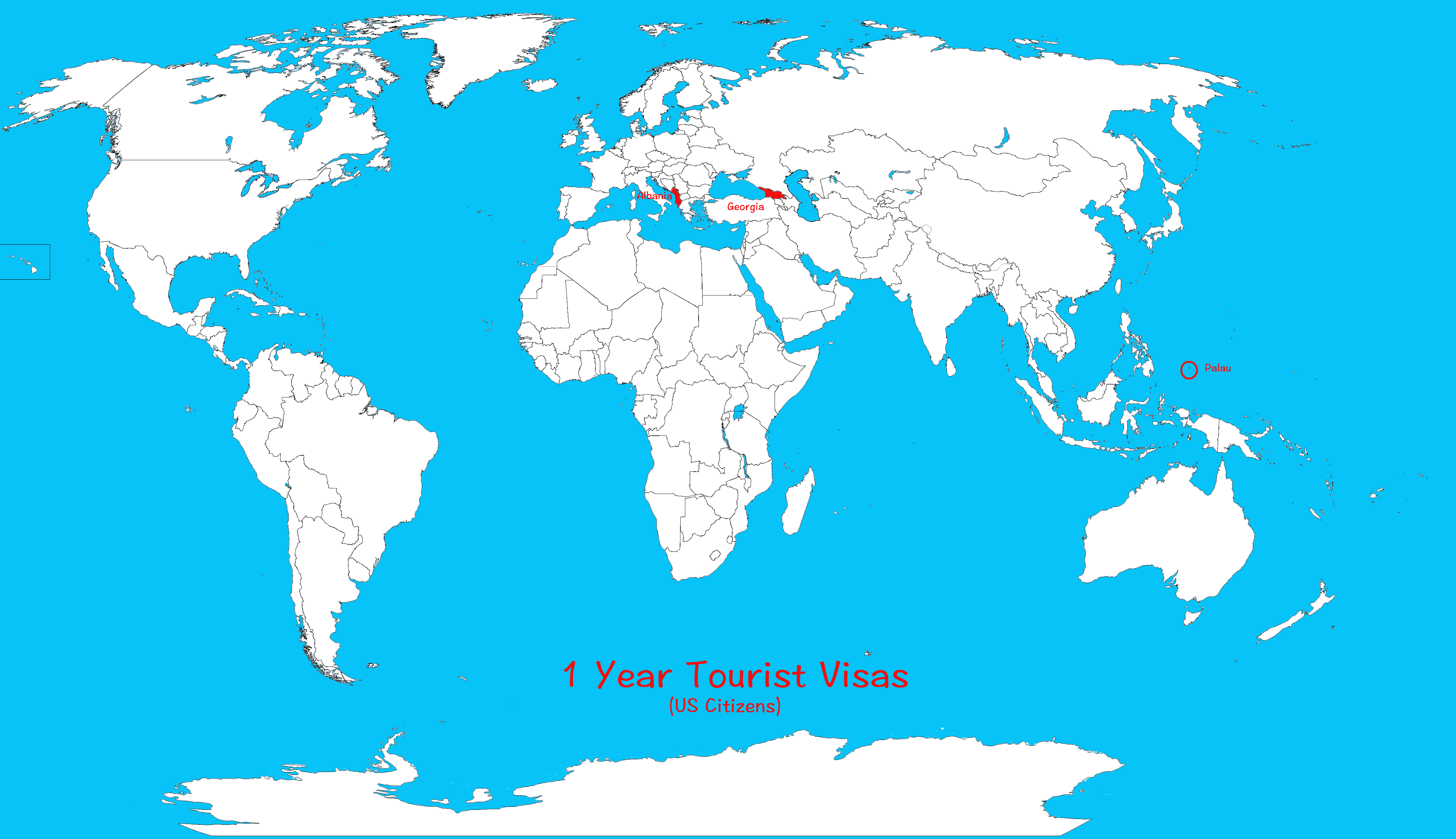 *Bonus: As part of the Compact of Free Association, US citizens may live and work in the Marshall Islands, Micronesia, the Mariana Islands, and Palau.
**Despite being administered by Norway, Svalbard is an open-border, visa-free zone – anyone can live and work there indefinitely, provided they can afford to live in this expensive, remote place.
Length of Stay: 240 Days
Bahamas
Length of Stay: 183 Days
Peru
Length of Stay: 180 Days
Antigua & Barbuda (proof of funds & return/onward ticket required)
Armenia
Barbados
Bermuda
Canada
Cayman Islands
Central African Republic (International Certificate of Vaccination required)
Dominica (departure fee of ~$22)
Jamaica
Mauritius
Mexico
Montserrat
Panama (must have no criminal convictions)
St. Lucia
UK (return/onward ticket required)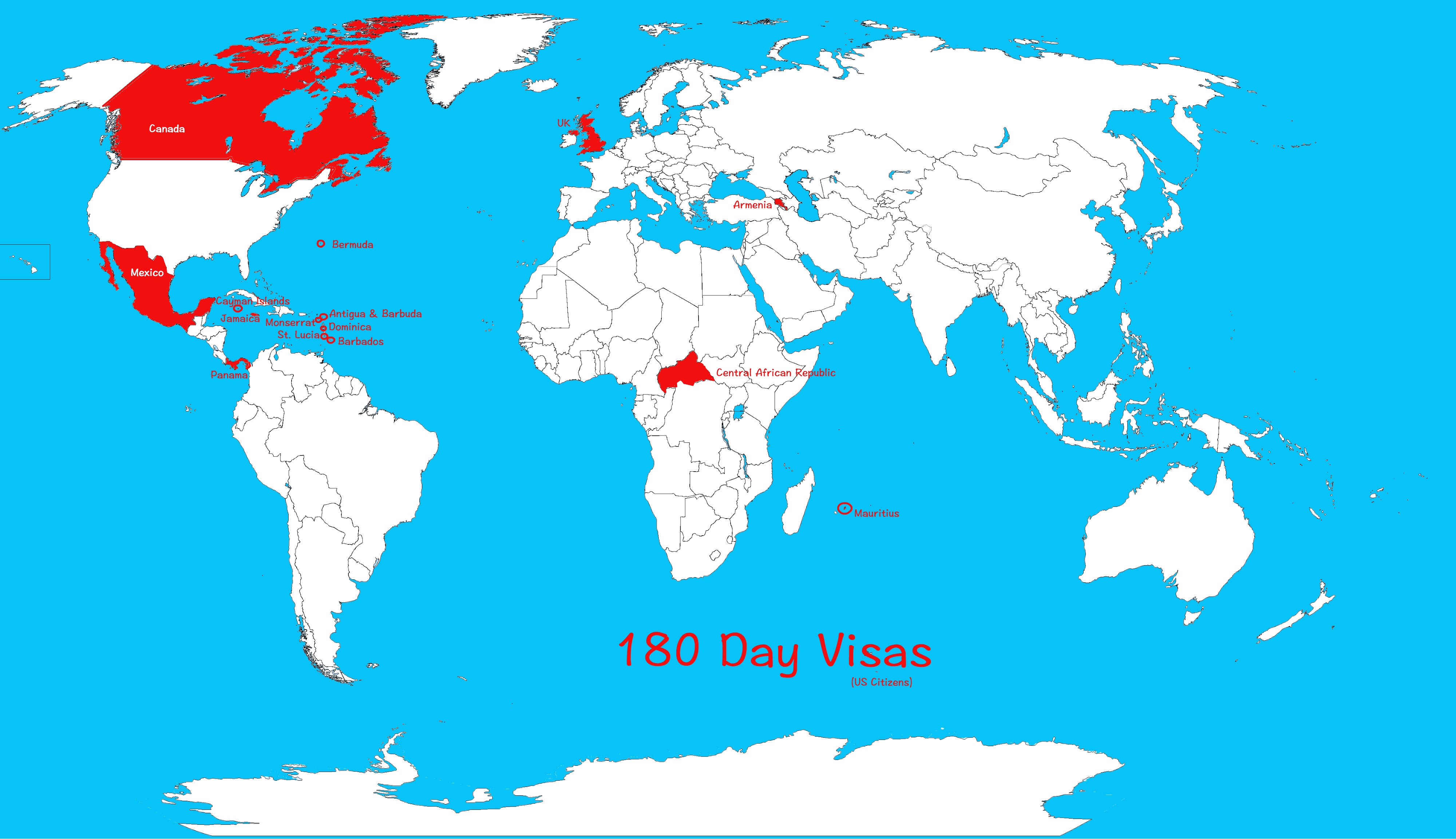 Length of Stay: 120 Days
Andorra
Fiji
Tunisia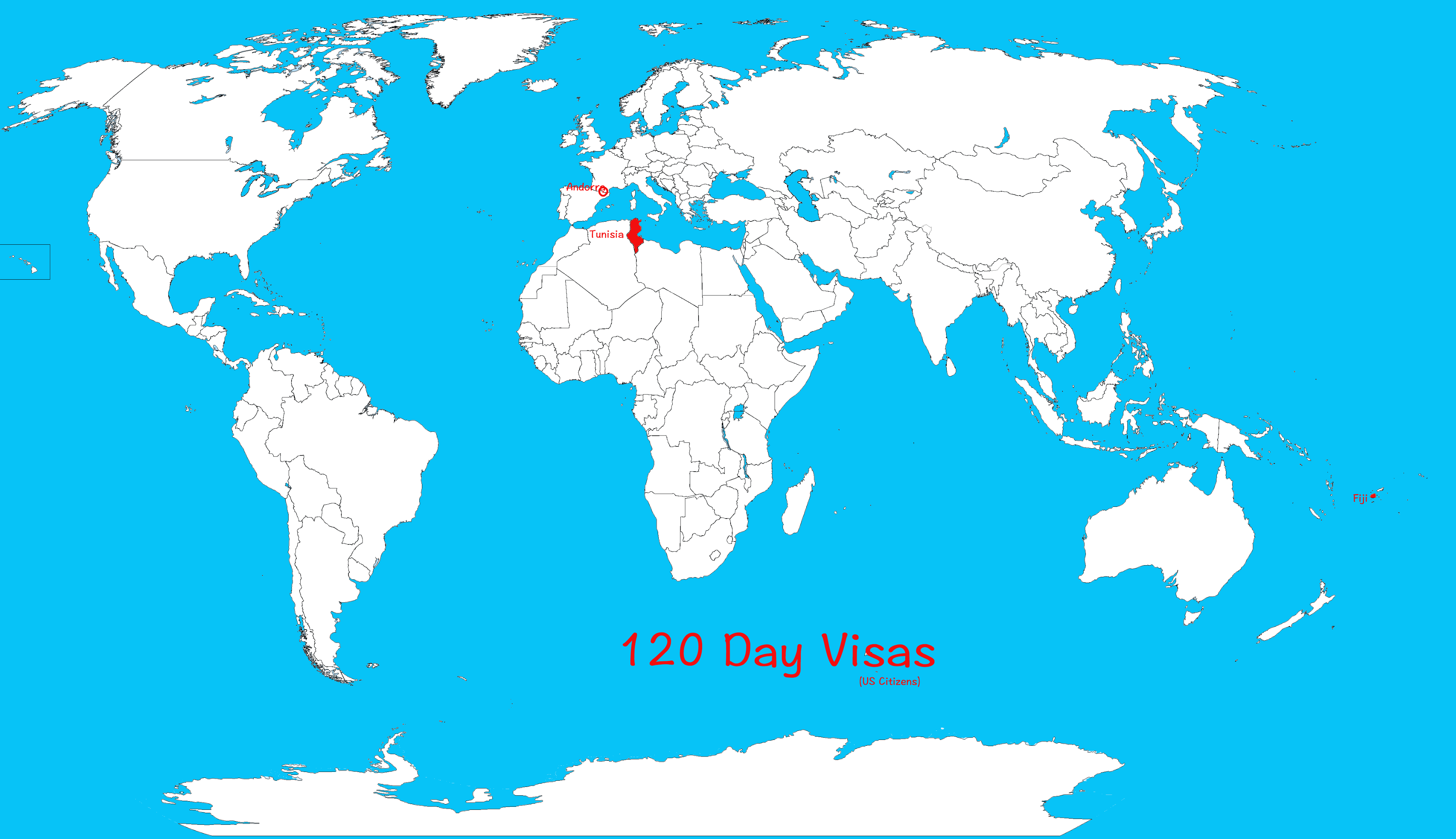 Visa Required:
Cambodia
The initial tourist visa in Cambodia is valid for 30 days. However, you may renew it for up to 1 year.
India
When granted a tourist visa for India, it is valid for 10 years. However, you must leave the country every 180 days, though you can immediately re-enter.
Nepal
Visas available on arrival. The fee depends on the length of stay up to 150 days.
New Zealand
US citizens may travel visa-free to New Zealand for 90 days. You may apply in advance for a tourist visa up to 9 months, which actually also allows you to study for up to 3 months. This visa is extendable another 3 months (for 1 year total) if you have proof of funds, have not taken advantage of the study allowance, and "need more time to complete your tourist itinerary".
Philippines
You are granted 30 days on arrival or may apply for 59 days in advance. Visas may also be extended every 1 or 2 months up to 16 months. If you purchase an ACR card, you may extend your visa 6 months at a time.
Here's a handy chart infographic of all the countries I've mentioned: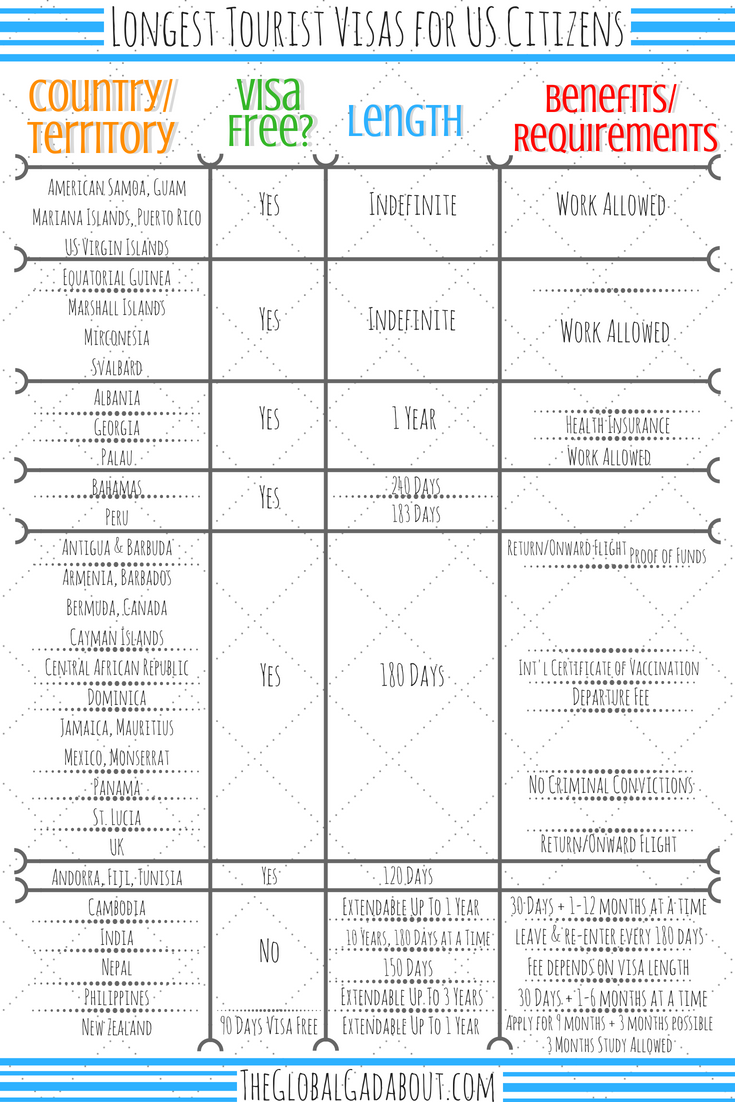 So, if you are looking to stay for 4 to 6 months, a year, or even indefinitely abroad, these countries are your best bet! For more information or info on other countries' tourist visas, check out this complete list of visa requirements and lengths for US citizens worldwide. Whether as a tourist, digital nomad, or even working or studying abroad, I definitely recommend traveling long-term at least once!
Related Post:
Want more from The Global Gadabout? Sign up for the newsletter and get access to exclusive printable freebies!
Pin this post for later!