Credit cards can be great for travel hacking. Build up points and redeem said points for free hotels, flights, transportation, and other travel-related expenses. Check out my Beginner's Guide for all the details on how this works. These travel rewards credit cards routinely offer large bonuses when you spend a certain amount in the first few months you use it. This is an awesome way to score lots of free travel fast! Another common incentive is that your points are worth more (20-25% more, typically) if you use them to pay for travel booked through that credit card's travel booking portal. 25% more value sounds like a no-brainer, right? Except that "value" very misleading. Read on to discover why your points are actually worth less and you shouldn't fall for this hack!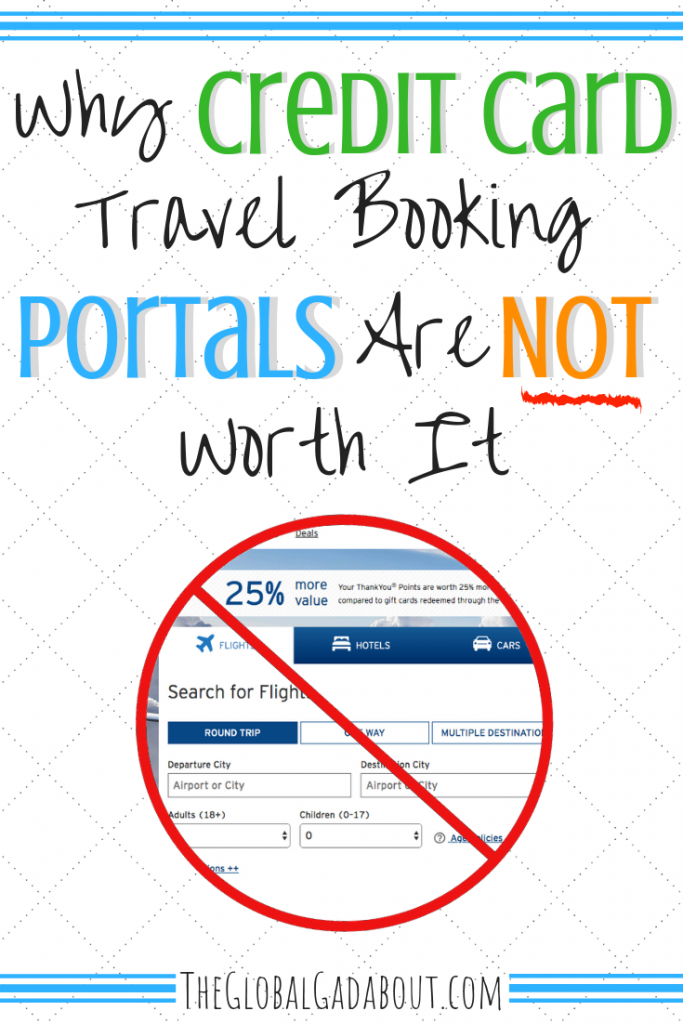 What is a Credit Card Booking Portal?

When I talk about a "booking portal", basically I mean a travel search engine within a credit card's website. When you log in to check your balance or pay your bill, you might see a tab or button for booking travel. Any travel you book through this portal can be paid for directly with whatever points you've built up on that credit card.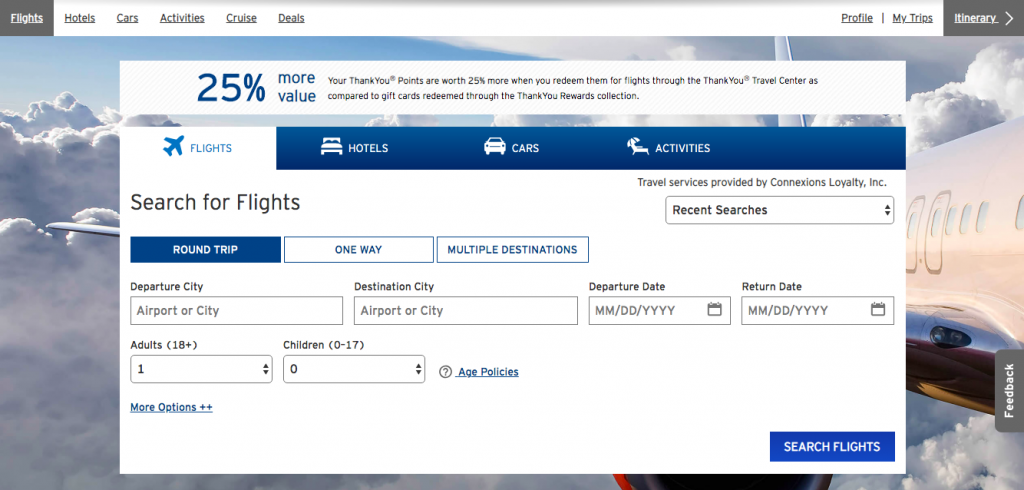 Why Are They Tempting?

50,000 bonus points worth $500 in free travel sounds super! What sounds better? 50,000 bonus points worth $625 in free travel, that's what! Why does it matter what site you book your travel on if you get extra free money for doing so? It's extra free money! Yeah, tempting…


Why They're Not Worth It

When you use a credit card's booking portal to search for travel options, they control what results you see. Credit cards are businesses. They want to make a profit from you. They're offering this free stuff now in hopes that they'll earn mega-interest off you in the future. If they give you more "value" for your points by booking with them, they don't want to let you make the most of those points. This manifests in two basic ways: options and cost.

Options

When you book through their portal, credit card companies get to choose which airlines and flight patterns to make available to you and which hotels and types of rooms you can book. I routinely fly budget and local airlines. I have never seen my go-to airlines offered through a credit card portal. I routinely book hostels, budget hotels, and Airbnb rooms for accommodation. I've never seen these types of facilities available through a credit card booking portal. That's just my experience and doesn't mean it never happens. Generally speaking, however, the options are limited and specific.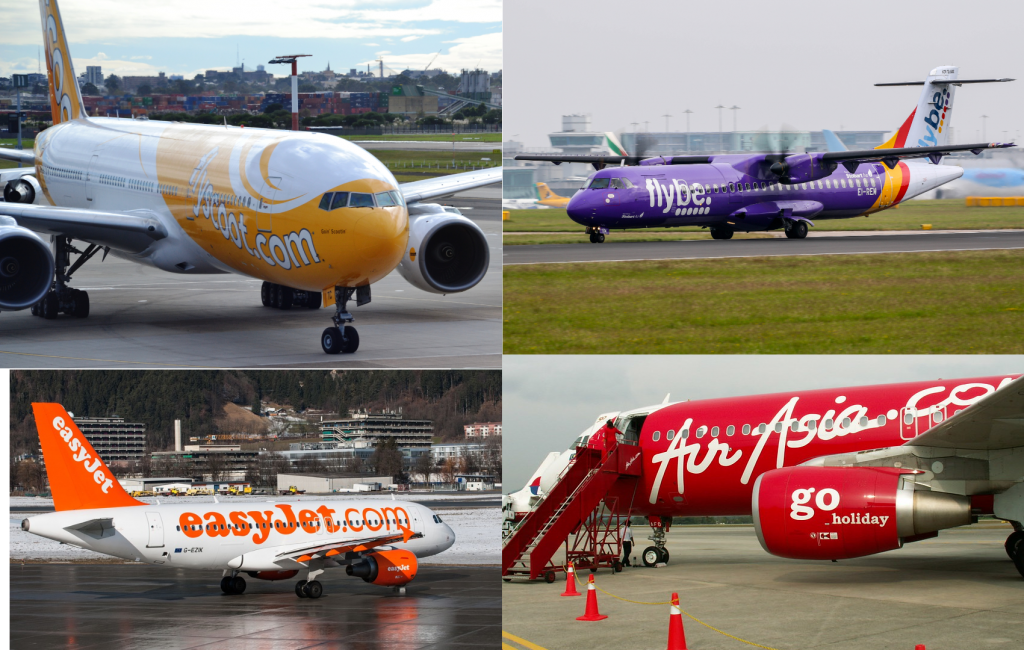 Cost

A couple of months ago, I searched for flights from Malaysia to Cambodia in my current credit card's booking portal. The results I got cost in the US$350-1000 range. I checked the same route on my typical flight search engines and found a comparable flight for US$35. Thirty. Five. Dollars. Ten times less expensive than the cheapest option through the portal! That's insane! Ok, I'm the first to say that was probably a very extreme example. So I checked that same route today to compare. The cheapest portal price was a much more reasonable $153 but in 30 seconds I found a $28 flight on the same route and date on a different site. Five times cheaper! 


I consistently find flights to be at least twice the cost through portals than what I can find elsewhere. Same goes for hotels. I'm not saying that the credit cards inflate prices (though I've seen some arguments that they do, slightly). If you searched for the exact same flight directly on the airline's website, I wouldn't expect there to be a huge difference in cost. What I'm saying is that they only show you the more expensive options.


The Bottom Line

So what does this boil down to? If you're getting better value for your points, why does it matter if your options are limited and the price is higher? You're not paying that price, after all, you're using points. But there are other ways to cash in your points. Most cards let you "erase" purchases with points or use them to offset your bill. Forget about the monetary value of your points and think about the real-world value.


Here's an example. Say you have 50,000 points to spend. Through the portal, they're worth $625. You search for a flight from New York to London and find one costing $625. Cool, one free flight! But there are no points left for any other expenses. Now, those same 50,000 bonus points are worth a measly $500 if you don't use the portal but you decide to look at other options anyway. You check out a budget airline and see a similar flight from New York to London for $225. Deal, score! Then you book a couple of nights at a London hostel for $25 each, a train ticket to Edinburgh for $75, and 3 nights at an Airbnb there for $30 each, totaling another $215. $440 worth of travel expenses so far. You use your points to "erase" these purchases from your bill and you still have 6000 points left. Instead of one flight through the portal, you got transportation and accommodation for 5 nights and 2 cities with more points still available. So much more actual value!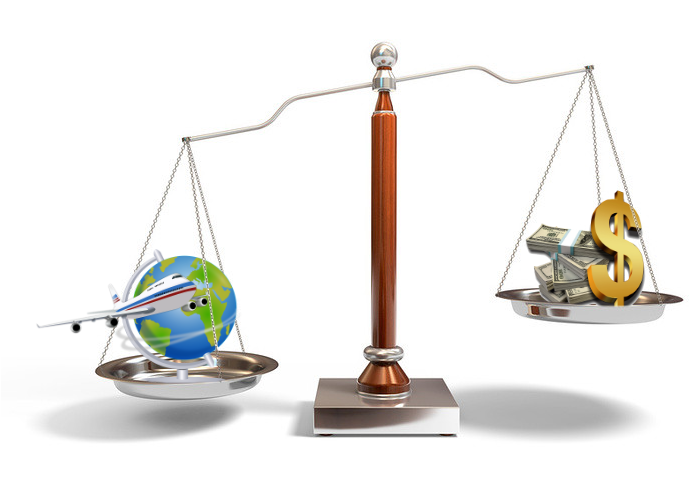 Exceptions
There are exceptions to this, of course. Sometimes credit cards do show more of a range of options and prices. Some may even offer exclusive deals through their portals. And if you're not a budget traveler and routinely pay the prices they show for travel expenses, then the extra 25% is actually added value. In that case, you should choose that option to spend your points. But generally speaking, for budget travelers, credit card booking portals are not worth it.
Related Posts:
Want more from The Global Gadabout? Sign up for the newsletter and get access to exclusive printable freebies!
Pin this post for later!