The bag you bring when you travel can have a big impact on your trip. The right bag can be super functional and easy to use, making moving around the world streamlined and simple. The wrong bag can make you dread each time you pack it up and have to haul it around with you. In all the years I've been traveling, I have brought so many different bags with me. Widely different kinds of bags. Most have been just fine. They weren't particularly fantastic, nor troublesome.
On one memorable trip, I thought I'd found a gem in a very lightweight spinner suitcase only to have the rubber wheels disintegrate a few days into that three-month trip. I was so frustrated with that bag the entire time and the difficulty in rolling it ended up affecting the accommodation I chose (close to public transport) and making me spend more money on transportation rather than walking as I would have with a functioning bag.
There are a lot of really fantastic bags out there with features that enhance or meld extremely well with traveling. Of course, many of these come at exorbitant prices. I have searched, tried and tested over the years to find great ones that are multi-functional but won't break the bank. Here are my five go-to versatile and cheap travel bags:
*This post includes one or more affiliate links. I earn a small commission (at no extra cost to you!) if you purchase a product or service through one of these links. Find out more here.*
This is the ultimate multi-functional and highly useful bag. At its smallest, it's a waist pack/fanny pack/bum bag. This is a great hands-free option, which I love to use for hiking and long walks. You can also lengthen the straps and wear it across your back like a sling bag or over your shoulder like a purse.
If you need a bit more space, there is also a fold-out backpack option. I find this fantastic for shopping. I always have my reusable shopping bag built right into my purse. For traveling, I've used the backpack as my small personal carry-on item, then left non-essentials at my accommodation to take it out for the day as a purse or waist pack. There's a lot more space than you might think, even when in small form.
Here are some of the different versions of this style available:
Top Up Multifunctional Daypack
Wilcor Be Outdoors Transformable 2 in 1 Pack
I love a carry-on suitcase/day bag combination – this is my go-to long-term travel bag!
You can separate the carry-on bag and daypack for storing on the airplane, then zip or clip them together for one easy rolling bag as you are moving. Both parts fit well within most airlines' standard carry-on sizes. You've got a smooth rolling, durable suitcase that also has hide-away backpack straps to make it easier to carry up a lot of stairs or over rough ground. Then you have your separate day bag in the form of a small backpack, with actually quite a bit of space.
Great options in this style include:
High Sierra AT3 Carry-On Wheeled Backpack
High Sierra Ultimate Access 2.0 Carry-On Wheeled Backpack
This is a variation on a fanny pack/waist pack/bum bag. It's a small bag that straps around your waist but is designed to sit on your thigh and has a second strap to hold it there. The style is similar to a gun holster – hence the name "holster bag". I love it for security when traveling. You have your hands free, yet all your valuables are strapped to you at all times, right where your hand naturally falls. You can sit or sleep on a plane, train, bus, or in a car with it strapped in place. I've found it doesn't get in the way and there's less risk of it being easily stolen. Plus, since it's kind of like a belt, I've gotten away with this as an unnoticed third carry-on bag…
I'm also a scooter owner, and these are great for scooter and motorcycle riding and road trips. You can have your essentials right there without having to get off and open up saddlebags or boxes on your bike to retrieve a wallet for gas or check your phone, etc. You get them in a variety of materials and sizes. While you can always wear them over your shoulder or cross-body style, some versions also have adjustable straps so you can transform them more attractively into a shoulder bag or back holster to suit the circumstances.
If you want something with a little more flair and cool gothic vibe, there are many variations on a Steampunk Holster Bag available: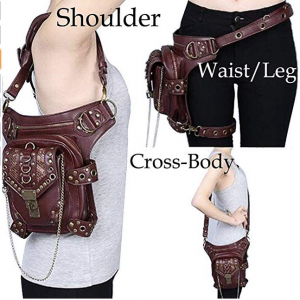 Or for a sportier look, try this waterproof version:
Kawei Knight Nylon Tactical Leg Bag
A roll-up bag is great for travel when you are going to have your bag with you (ie. it's not going in the airplane hold), you'll be getting things in and out of it a lot, and/or you need a sort of mobile closet. Basically, it's a long rectangular strip with several pockets all along it and straps to hang it from a hook, door frame, etc. You organize your clothes and gear into the pockets, then roll the whole thing up into a tube and tie the straps to secure it. It's got a shoulder strap to carry it across your back like a yoga mat.
This a great option for staying organized. You can basically unroll it and be unpacked, or roll it up and be packed again – quick and easy! The open ends necessitated by this design, however, mean that it might not be the best if you're going to be out in the elements or if it's going to be handled by others and thrown into a baggage hold. It's smaller than a standard carry-on bag and holds less, so better suited to shorter trips. Or strap it to the side of a backpack for a bit of extra carrying capacity or use it as an organizer inside your regular carry-on!
Rolo Adventures Portable Roll-Up Travel Bag
Hynes Eagle Roll-Up Travel Bag
While not a traditional bag, this is probably the most versatile one on this list – or on the market, for that matter! The standard Scrubba wash bag is basically a highly compact, portable washing machine that allows travelers to effectively wash their clothes on the road.
The Stealth Pack version takes the same "flexible washboard" nubs that make the bag a great washing machine and adds backpack straps. Now the washing machine can also be used as a daypack! In the new version, the straps are detachable and you can just clip on one to use it like a sling bag.
But it doesn't stop there. The wash bag is also a dry bag. In addition to filling it with water to wash your clothes, you can keep your clothes and gear dry in the rain or during water activities inside this bag. Plus, it acts as a compression bag, so you can fit more inside. The piece de resistance in versatility is that you can also use this bag as a camping shower! Fill with warm water, hang it high up, and open the release valve to get a nice, steady stream of water to shower in. Fantastic!
These are excellent options for functional and multi-purpose travel bags. I've used all kinds of different bags and find these work the best for the kind of solo, long-term, budget travel I do – but really they'd be great for many styles of travel. They are more affordable than a lot of fancy suitcases and some are a downright bargain! Investing in a good bag or two can really add to the comfort and ease of your trip.
Sign up for my newsletter to receive my free Ultimate 3-Season Carry-On Bag Packing List. Happy traveling!
Related Posts
Pin this post for later!